What are programs?
Our programs are made up of volunteers passionate about protecting our ocean. Program volunteers are the first response to local threats relevant to their initiatives; they are the boots on the ground, collaborating locally and nationally with staff and issue experts to carry out our mission through campaigns, programs, and educational initiatives.
Most programs hold monthly public meetings to discuss current actions and campaigns. The majority of our committee meetings are virtual or hybrid. No training or prerequisites are required. If you're interested in the topic, we encourage you to join!
Please see our Events Calendar for current meeting schedules and joining information.
Clean Water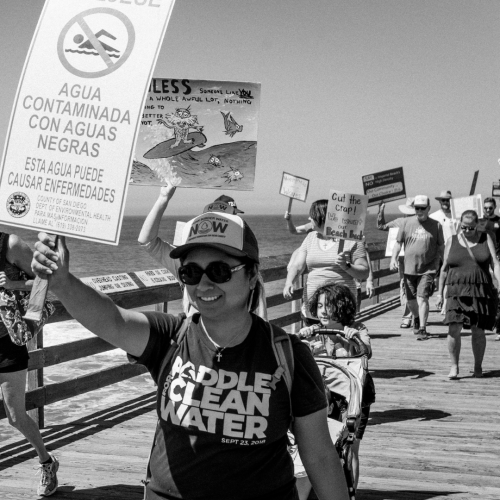 Clean Border Water Now
Clean Border Water Now's (CBWN) mission is to address and eliminate the sewage, trash, sediment, and chemical waste plaguing the Southern California border region. We do this by raising awareness through outreach and education while impacting policy with our advocacy work.

Core Volunteer Orientation
Are you interested in volunteering with our chapter but still unsure where to start? Attend a Core Volunteer Orientation!
Our volunteer orientations help you better understand the Surfrider mission, structure, and current chapter programs and opportunities.
These meetings occur online via ZOOM.
Advance registration is required. After registering, you will receive a confirmation email with the ZOOM link.
Check our events calendar for the next orientation.
Take a Surfrider University Training Course!
SFU aims to provide interactive learning and development opportunities to the whole chapter network, to increase the knowledge and skills of individual activists, and increase the effectiveness of our chapter network.
If you experience any login issues, please email aferron@surfrider.sandiego.org
Have you heard of our Beachapedia website?
It's like Wikipedia for coastal issues and can serve as your coastal knowledge resource!