Written By: Shannon Johnson, Co-Lead, Clean Border Water Now
Surfrider Foundation San Diego County Chapter was honored to participate in the annual Coastal Recreation Hill Day in Washington, DC this past February.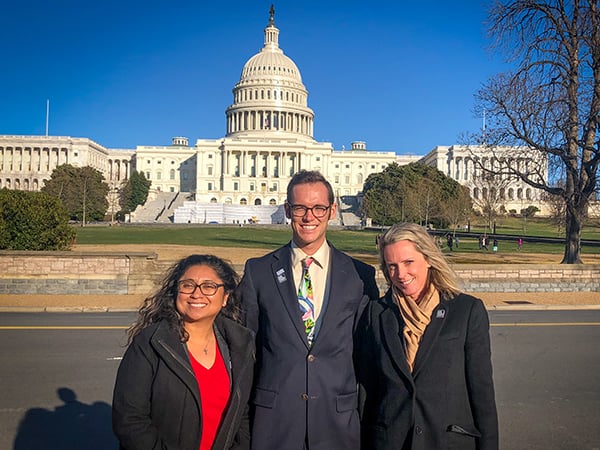 The Chapter's Executive Committee Vice Chair, Scott Ridout, Border Sewage Policy Coordinator, Gabriela Torres, and Clean Border Water Now Program Co-Lead, Shannon Johnson, joined 150 other like-minded activists from across the country to ask our nation's leaders to protect our oceans, waves and beaches.
Surfrider's 2020 federal lobby priorities were:
Take Action on Climate Change
Protect Clean Water & Public Health
Reduce Plastic Pollution
Defend Public Lands & Waters
The San Diego County Chapter representatives teamed up with South Orange County Chapter Chair, Rick Erkeneff and Chapter Manager, Denise Erkeneff, to discuss the above-mentioned priorities and issues common to both areas. The group met with the following congressional offices:
Congressmember Michael Cloud, 27th District
Congressmember Gil Cisneros, 39th District
Congressmember Ken Calvert, 42nd District
Congressmember Lou Correa, 46th District
Congressmember Mike Levin, 49th District
Congressmember Juan Vargas, 51st District
Congressmember Scott Peters, 52nd District
Congressmember Susan Davis, 53rd District
In addition to the federal priorities, we also advocated for the allocation of $300 million from the USMCA to be used specifically for the Tijuana River Valley (TRV); for the creation of public-private partnership projects that would benefit the border area beach region; and we invited all staffers to a guided tour of the TRV.
We would like to thank all the Congressional Members, their staff and everyone involved in this day for engaging and listening to our issues and requests. We look forward to following up and working with you in the near future.