Take Action Now to address the sewage, trash and chemical contamination in the Tijuana River Valley. We are calling on you to contact your County Supervisor. Read more below.
Clean Border Water Now (CBWN) recently teamed up with the Blue Water Task Force (BWTF) to study the water quality in the Tijuana River Valley.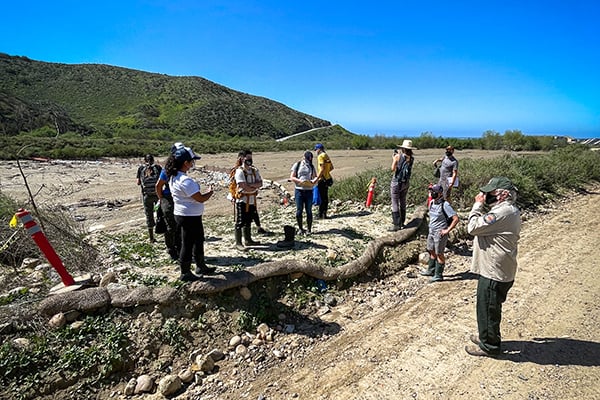 About the BWTF
The BWTF provides critical water quality information to protect public health at the beach by engaging the community in citizen science. Surfrider chapters use this volunteer-led program to raise awareness of local pollution problems and to bring together communities to implement solutions.
Blue Water Task Force labs measure fecal indicator bacteria levels in recreational waters and compare them to water quality standards set to protect public health. Chapter-run BWTF programs fill in the gaps and extend the coverage of agency-run beach monitoring programs by sampling ocean and bay beaches and potential freshwater sources of pollution such as stormwater outlets, rivers and creeks that discharge onto the beach.
About the Study
Ten volunteers were trained and overseen by the CBWN Policy Coordinator and CBWN/BWTF Program Leads. Five sampling sites were chosen in the Tijuana River Valley on popular hiking trails and in close proximity to the new Tijuana River Valley Regional Park Campground that is scheduled to open this summer. This campground is situated on the north side of Monument Road near the Goat Canyon Trash Boom.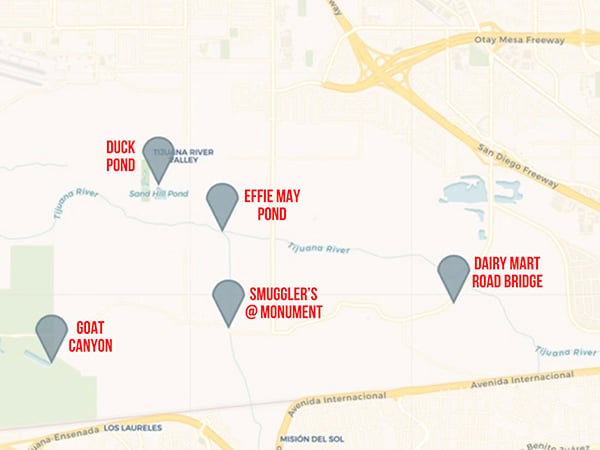 The following results are from samples collected throughout a four-week period in February/March 2021. You can also view the full details on the Blue Water Task Force data website.
About the Sampling
All samples were collected and processed according to the Standard Operating Procedures posted on the Resources tab of the Surfrider Foundation's Blue Water Task Force website. Samples were collected using aseptic sampling methods and were processed in the Surfrider San Diego's laboratory using IDEXX's enterolert/Quanti-tray sealer system. For more information on these testing procedures please visit: https://bwtf.surfrider.org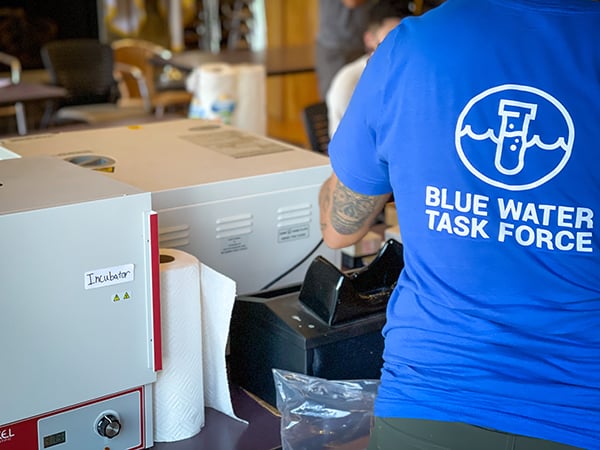 About the Trash
While sampling, the Surfrider volunteers also collected visual evidence of the trash and pollution at each test site.

Goat Canyon Trash Boom, February 2021


Smuggler's Gulch, February 2021


Dairy Mart, February 2021


Effie May Trail, February 2021


Floooded Effie May Trail, February 2021


Effie May Trail Trash, February 2021

What Can You Do?
The County of San Diego recently opened the Tijuana River Valley Regional Campground in April 2021. Please call and write to your County Supervisor and ask them to declare a state of emergency in the Tijuana River Valley!
District 1: County Supervisor Nora Vargas
Email: district1community@sdcounty.ca.gov
Phone: 619-531-5511
District 2: County Supervisor Joel Anderson
Email: joel.anderson@sdcounty.ca.gov
Phone: 619-531-5522
District 3: County Supervisor Terra Lawson-Remer
Email: terra.lawsonremer@sdcounty.ca.gov
Phone: 619-531-5533
District 4: County Supervisor Nathan Fletcher
Email: nathan.fletcher@sdcounty.ca.gov
Phone: 619-531-5544
District 5: County Supervisor Jim Desmond
Email: jim.desmond@sdcounty.ca.gov
Phone: 619-531-5555