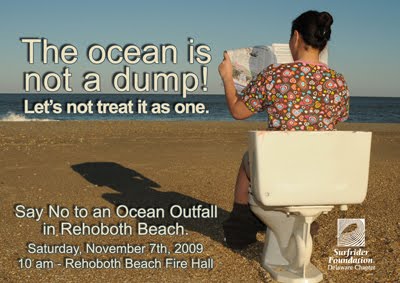 Despite the Delaware Chapter's best efforts the City of Rehoboth Beach, DE recently chose to pursue building a new ocean outfall to dispose of its wastewater. Meanwhile, the Chapter is continuing their campaign to build support for Land Based Application (LBA) of the wastewater instead. LBA would allow the water to be recaptured and used primarily on agricultural fields through spray irrigation.
Local media coverage of this issue follows. For more info on the Chapter's campaign, visit their
website.
Delaware beaches: Ocean sewage plan stirs questions



Critics say Rehoboth outfall could affect water, deter tourists

By MOLLY MURRAY
The News Journal
When Jean Miller heard that Rehoboth Beach officials had decided to send their treated wastewater through a pipe into the ocean, it took her back to Puerto Escondido, Mexico.
Miller, of Wilmington, recalled standing on a resort balcony on Mexico's south Pacific coast. She looked out at the water and saw a yellow line, several yards off the beach, which she learned was the area's sewage being discharged on the outgoing tide.
For Rehoboth, she had one question: "I wonder what the cost is going to be ultimately?"
Each summer, the weekend population of Rehoboth Beach swells from 1,495 to 20,000, most drawn to the city's reputation for soft sand and clean water. Delaware typically scores high marks on ocean water quality from national environmental organizations and rarely are there advisories against swimming at any of the state's resort communities.
That's why some folks are questioning the city commissioners' unanimous decision to pipe treated waste into the ocean, replacing a system that has contributed to pollution problems in Rehoboth Bay.
Sen. George Bunting, D-Bethany Beach, said he was surprised the city would risk the possible impact on tourism to save on future sewerage rates.
"We've worked all these years to get them out of the bay," he said. "The issue is more about money than the science of it."
The long-term impact is impossible to gauge, said Russ Merritt, whose group -- the Delaware Chapter of the Surfriders -- opposed the plan.
"It may be a decision we don't know to regret yet," he said.
Dozens of municipalities safely use ocean outfalls along the Atlantic Coast and more often than not, they operate without problems. The wastewater is heavily treated, with solids removed and the liquid heavily disinfected before discharge -- often a mile or more off the coast, a scenario that is far different from what Miller witnessed in Mexico.
In New Jersey, there are 14 ocean outfalls from Sandy Hook south to Wildwood. Sussex County operates an ocean outfall at the south end of Bethany Beach, and Ocean City, Md., has an ocean outfall.
All operate with pollution discharge permits and must meet standards for the water that flows out the end of the pipe.
And on the West Coast, ocean outfalls have been a way of life for decades. Los Angeles, for instance, started dumping its waste into the Santa Monica Bay in the late 1800s and continued to dump the untreated waste through the 1920s until area residents began complaining about it.
Still, some places are beginning to rethink the old adage that "the solution to pollution is dilution."
In June 2008, Florida Gov. Charlie Crist signed into law legislation to ban new ocean outfalls and expansions of the existing ones in South Florida. The concern: the impact excessive nutrients have on marine life and a growing need to reuse water in the heavily populated region.
The six existing south Florida ocean sewer outfalls have until 2018 to significantly reduce nutrients coming from their pipes and must eliminate the outfalls entirely by 2025. Some 60 percent of the flow -- all told, 300 million gallons a day -- must be redirected to beneficial reuse.
In Massachusetts, officials with the Massachusetts Water Resources Authority spent more than a decade in court to win permits for a new outfall that discharges through a 9 1/2-mile tunnel into 100 feet of water in Massachusetts Bay. Authority officials are required to do special monitoring as part of their permit to make sure the discharge doesn't impact endangered northern right whales, which are found seasonally in an area 16 miles away.
Any sewer system that discharges to a waterway is problematic, said Thomas P. Fote, with the Jersey Coast Anglers Association.
Industrial dischargers pretreat their waste to remove harmful chemicals, but that doesn't happen with the waste from homes, he said. People flush old prescription medications and household cleaners -- all substances that can cause significant problems in the aquatic environment -- and they linger.
"It's what's coming out of our homes," Fote said. "The drugs we take, the cleaners we use."
Estrogen in some medications is one example.
"We know it's affecting the sex lives of fish," he said.
Rehoboth's proposed outfall would be close to Hen & Chicken Shoals -- an essential fish habitat.
"That's where they are most vulnerable," he said of the area's fisheries.
But the bottom line, Fote said, is "no matter where you put it, it's going to have an impact. ... It's not an easy solution."
Still, Rehoboth officials believe the outfall can be operated safely and is the most cost-effective option. It also will allow the city to have control over future fees and rates. The area is so rich with groundwater that reuse really isn't an issue, according to Mayor Samuel Cooper. Besides, he said, state environmental officials haven't come up with a method or system that allows for beneficial reuse.
City Commissioner Dennis Barbour said his decision was prompted by the environment, the interests of the larger community outside Rehoboth, public perception and the fiscal impact on the citizens of Rehoboth.
Barbour said the other option -- to apply the treated waste to the land -- "does little, if anything, to address long-term environmental concerns about the health of the bay. I am convinced that wastewater disposed of in the ground will simply make its way back to the bay in due time, along with its harmful elements.
"On the other hand," he said, "I am equally convinced that current technologies ensure that ocean outfall will not have any significant, measurable negative environmental impact. I have expressed concern that science might one day identify harmful pathogens in wastewater, now unknown or unmeasurable, that may force us to abandon ocean outfall."
But, Barbour said, in the end he was satisfied that this concern was speculative.
At a hearing in November, the majority of city residents on hand supported the proposed ocean outfall as a less-costly alternative and one that gave city officials control over future costs and operations.
Much of the citizen opposition came from people who lived outside the city limits -- folks who worried about the potential for water quality problems both short- and long-range. Among the most vocal opponents: the local chapter of the Surfriders. More than 500 of their members nationwide sent e-mails to the city opposing the outfall plan.
In addition, the Rehoboth Beach-Dewey Beach Chamber of Commerce favored sending the wastewater inland, to be sprayed on land, rather than out to the ocean.
"It had nothing to do with safety or water quality," said Carol Everhart, president of the chamber. "It had everything to do with perception ... and a concern that it could lead to a loss of visitation."
Everhart said now that the decision has been made, chamber officials will work with the city to make sure the public is well-informed about the safety of the proposed outfall.
"That's our job now," she said. "If anything were to wash up on the beach ... you have to be prepared."
Rates will rise
The average city homeowner pays $325 a year in sewer fees. Under any of the alternatives city officials considered, sewer rates would rise. The range of price for the ocean outfall is $550 to $630 annually. The land application price range was $1,010 to $1,420.
Rehoboth is under a court order to alter its wastewater discharge. The city currently discharges into the Lewes & Rehoboth Canal a few hundred yards from Rehoboth Bay.
The city's treatment plant is considered a major source of the nutrients, nitrogen and phosphorus that fuel algae growth in the bays. As the aquatic plants die and decompose, oxygen levels drop. When oxygen gets too low, fish die. The decomposition can also cause bad odors and a thick mat of seaweed. Some of the microorganisms can be toxic in high numbers. Under the court order, the city must stop discharging treated waste into the canal by December 2014.
Over the years, state environmental regulators have pressured the city to reduce nitrogen and phosphorus levels in the discharge, but environmental problems -- ranging from fish kills to algae blooms -- continue in the Inland Bays and their tributaries. And as Sussex County has worked to remove hundreds of failing septic systems from Dewey Beach and the north and west sides of Rehoboth Bay, and area farmers have taken steps to reduce their nitrogen and phosphorus runoffs, pressure has mounted on Rehoboth Beach.
With the ocean outfall option, it is likely the city could continue to use its current treatment plant. The city is routinely in compliance on bacteria standards, according to monitoring reports that the city files with the state.
Ironically, ocean outfalls are easier to permit under federal Clean Water Act standards than other wastewater treatment options, said James May, a professor of law and graduate engineering at Widener University.
May said that while the permits may be more difficult to obtain politically, they need only meet primary treatment standards -- technologies that date to the 1920s.
The idea is that the ocean is so big, any pollution is rapidly mixed in the ocean water column, he said.
Rehoboth has struggled with nitrogen and phosphorus at its current plant. But Sussex County's South Coastal Regional Treatment Plant -- which has an ocean outfall south of Bethany -- doesn't have a limit for nitrogen and phosphorus in its permit.
The idea, said Heather Sheridan, director of environmental services for Sussex County, is that there is so much mixing once the treated wastewater reaches the ocean, there is little need to worry about nitrogen and phosphorus levels.
A federal Environmental Protection Agency study that looked at environmental impacts of ocean sewer outfalls found there was no impact on fish. The scientists found that the "benthic community," the animals that live on the sea floor, had a dual impact from outfalls. During the winter, the population stayed the same. But in the summer, diversity in the community decreased while the number of remaining animals went up.
They found there was no difference in the water quality or the bottom sediments.
State's decision
It will be up to the state to decide whether to allow the discharge and what pollution limits it will impose on Rehoboth, May said.
"We'll be looking at national standards, our own water quality standards," said Kathy Bunting Howarth, state director of water resources. "It's not just a state permitting process. It's got to be federal as well."
The permitting likely will include the Environmental Protection Agency, the U.S. Fish & Wildlife Service and the Army Corps of Engineers, among others.
City officials plan to request funding next month for the project through the state's Clean Water Advisory Council.
Robert Stickels, the former Sussex County administrator who serves as Sussex County's representative on the state's infrastructure funding council, said he believes the city likely will qualify for a low-interest loan.
With the outfall, Rehoboth "is really making a long-term commitment," Stickels said.
Stickels, a former town manager in Georgetown, recalled his permit struggles as that town tried to get a discharge permit for a local tax ditch.
He said that although the county has a stellar operating record with its ocean outfall, the county has moved toward land-based treatment with the facilities it has built over the last 20 years. Rehoboth's steps, he noted, will be closely watched.
"Rehoboth's a financial jewel for Delaware," he said. "This decision is greater than the boundaries of their town limits."
Gerard Esposito, executive vice president of Tidewater Utilities and a former state director of water resources, said he is concerned that the costs of the options haven't been fully vetted and city leaders may find out that ocean outfall is more expensive than they think.
The cost estimates are based on historic information because "hardly anybody is building ocean outfalls anymore," said Esposito, whose company had proposed a public-private land-treatment option.
And the potential for delays -- if the city is challenged in court or runs into permitting issues, could make the cost rise as well, he said.
Rehoboth's consulting engineers, Stearns & Wheler LLC, say the highly treated effluent won't be a health or environmental problem.
They suggest that even in a worst-case scenario -- a situation in which there would be a power failure -- the outfall would be environmentally sound because with no power, pumps would fail to send wastewater to the outfall.
Dagsboro businessman and charter boat captain Paul Henninger said he couldn't see a down side to the resort city's decision on using an ocean outfall.
"Actually, I think it'll benefit the fishermen," Henninger said. "There's already a wastewater pipeline off Bethany. I have the coordinates. I fish there already, and sometimes the fishing is pretty good right there."
Henninger, who has sailed the 33-foot Amethyst on fishing runs from Indian River Inlet for 26 years, said nutrients from the pipe may make food chains in nearby waters slightly more productive and interesting to fish of all kinds.
Harry Haon, vice chairman of the state Sierra Club's Southern Delaware Group, said the environmental organization took no position on the issue, but also had not encountered widespread or strong opposition.
"We had concerns about the spray irrigation approach, and if we'd taken a vote, it probably would have been for ocean outfall, but we were never very active on that," Haon said.
Discharges to the ocean will be controlled by state and federal limits on pollutant concentrations in the pipeline, Haon said. Those same pollutants already have been discharged for years into the far more confined and vulnerable upper Rehoboth Bay.
"There's a long track record on ocean outfall being done successfully not only in Delaware, but in Maryland, Florida and elsewhere," Haon said.
While Rehoboth prepares to run the permitting gantlet, Gov. Jack Markell and his environmental secretary, Collin O'Mara, remain circumspect.
"We anticipate receiving a permit application and look forward to working with the city," O'Mara said, "so that our Inland Bays will benefit from reduced amounts of nitrogen and phosphorus and a new system meets our standards to protect public health and the environment."
---