A handful of well-trodden dirt trails lead to San Diego beaches and of them, Beacon's Beach access trail has probably made the most appearances on City Council agendas. Geology and storms have made access to this area of Northern Encinitas unsafe for decades and everyone with an interest in this beloved stretch of coastline hopes to find a long-term fix.
The current trail is charming and popular but has the fatal flaw of being situated on top of an active landslide. In 1982, El Nino storms collapsed a stairway that had existed at Beacon's (Image 1) and activated the landslide (Image 2), which prompted California State Parks to enact a policy prohibiting new construction of stairways until the area was found to be stable. The policy also generally discouraged use of the area as an accessway but years of inaction, plus the public's will to visit the beach, led to the indoctrination of the trail that exists today.
Landslide problems go away in exactly the way you think — through bluff collapse. The entire trail and portions of the parking lot are within an area that is at risk of sliding off the bluff (Image 3). This vulnerability is well-known and Surfrider has been involved in finding a long-term solution for access since 2001. Unfortunately, the City of Encinitas has not been able to pursue a concept to completion that satisfies the community.
This is not necessarily for lack of trying. In 2001 and 2004, the city proposed a seawall as a means of stabilizing the existing trail. Surfrider viewed this as nonsensical because seawalls erode beaches — the 'solution' to coastal access would have destroyed the coast itself. The State Park General Plan explicitly prohibits seawall construction on Leucadia State Beach (Image 4) for these same reasons and Surfrider also opposed the seawall options as outright violations of that policy.
Surfrider, State Parks, and the Coastal Commission all demonstrated opposition to the seawall proposals and asked that the city broaden their thinking and study accessway solutions that included stairs and relocation of the parking lot, as well as 'soft' stabilizing measures like dune construction and beach nourishment.
In 2010, the city attempted to edge slightly closer to a more natural solution but ended up proposing a disappointing version of their prior proposal. They conceptualized an 'erodible buttress' or toe at the foot of the bluff that engineers claimed could erode over time. The buttress would be regularly rebuilt after it eroded though, which would cause the same beach-erosion problems as a traditional seawall. As a de facto seawall, the proposal was opposed by Surfrider, the Coastal Commission, and State Parks; and even the city eventually moved away from it.
It should be noted at this point that Surfrider was and is very invested in a real solution at Beacon's. As an organization that fights for both coastal access and the preservation of our beaches, we understand that those two priorities can sometimes conflict. However, a seawall — and the loss of our beach — is not our only option at Beacon's.
After participating in many public meetings, in 2017, the city proposed an access concept that Surfrider could live with. At multiple times before the project was dropped, Surfrider supported a wooden stairway idea that would preserve access, not erode the beach, and maintain consistency with the State Parks General Plan; plus the stairs promised a certain community charm reminiscent of similar stairways at San Elijo and Leucadia.
Surfrider was also willing to sacrifice the charm aspect to support a City-introduced stairway concept that included concrete. Such stairs would provide the same access and beach preservation benefits, but less disruption to the bluffs as less drilling would be required. The stairway option also included a phasing out of the current trail and relocation of vulnerable parking spots — these were features of the plan which nearly everybody agreed with because nobody (not even a coastal access nonprofit) wants to fight for public parking spaces on top of a bluff that could collapse at any moment.
The City of Encinitas held multiple public workshops that introduced the concrete stair alternative in 2018 but it became clear that opinions about access had become highly polarized. Vocal members of the community, including a few with armored beach homes in the area, were unwilling to support the stair concepts and some were unwilling to diverge from the original seawall concepts introduced back in the early 2000's.
And so the trail at Beacon's sits unsafe today, with the city having spent more than half a million dollars studying access, and Surfrider urging local leaders to address the imminent risks in the area. Recently the city embarked on a native vegetation bluff project that would essentially 'band-aid' some surface level instability caused by runoff, but otherwise the trail remains in limbo.
It is our sincere hope that the community can converge around a solution to prevent the parking lot from falling onto the trail or beach. Such an event is dangerous for obvious reasons, and from a planning perspective could cause the entire accessway to be closed for years. We hope to work with the community to save access to the beaches and waves that are so special in Encinitas.
Update 5 Jan 2022 - for a deeper in-depth look at this issue, check out "The Battle for Beacon's Beach" from Outside Magazine. It was published less than a month after this blog post.
Citations
Image 1
Concrete Stairway at Beacon's Beach, 1972
'2018 Beacon's Beach Improvements' Presentation by the City of Encinitas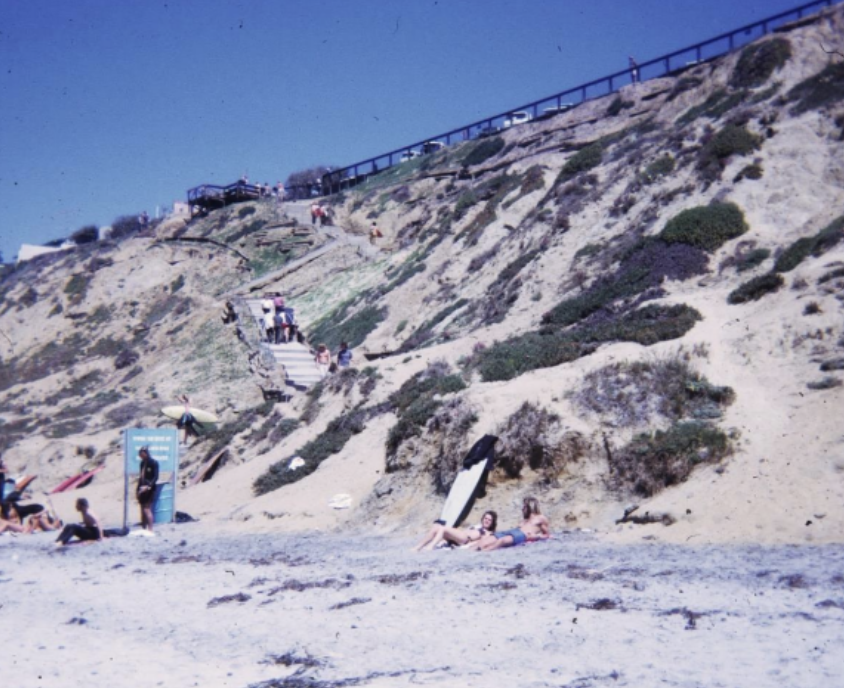 Image 2
General Plan Policy Prohibiting Seawalls at Leucadia State Beach
State Parks General Plan, page 15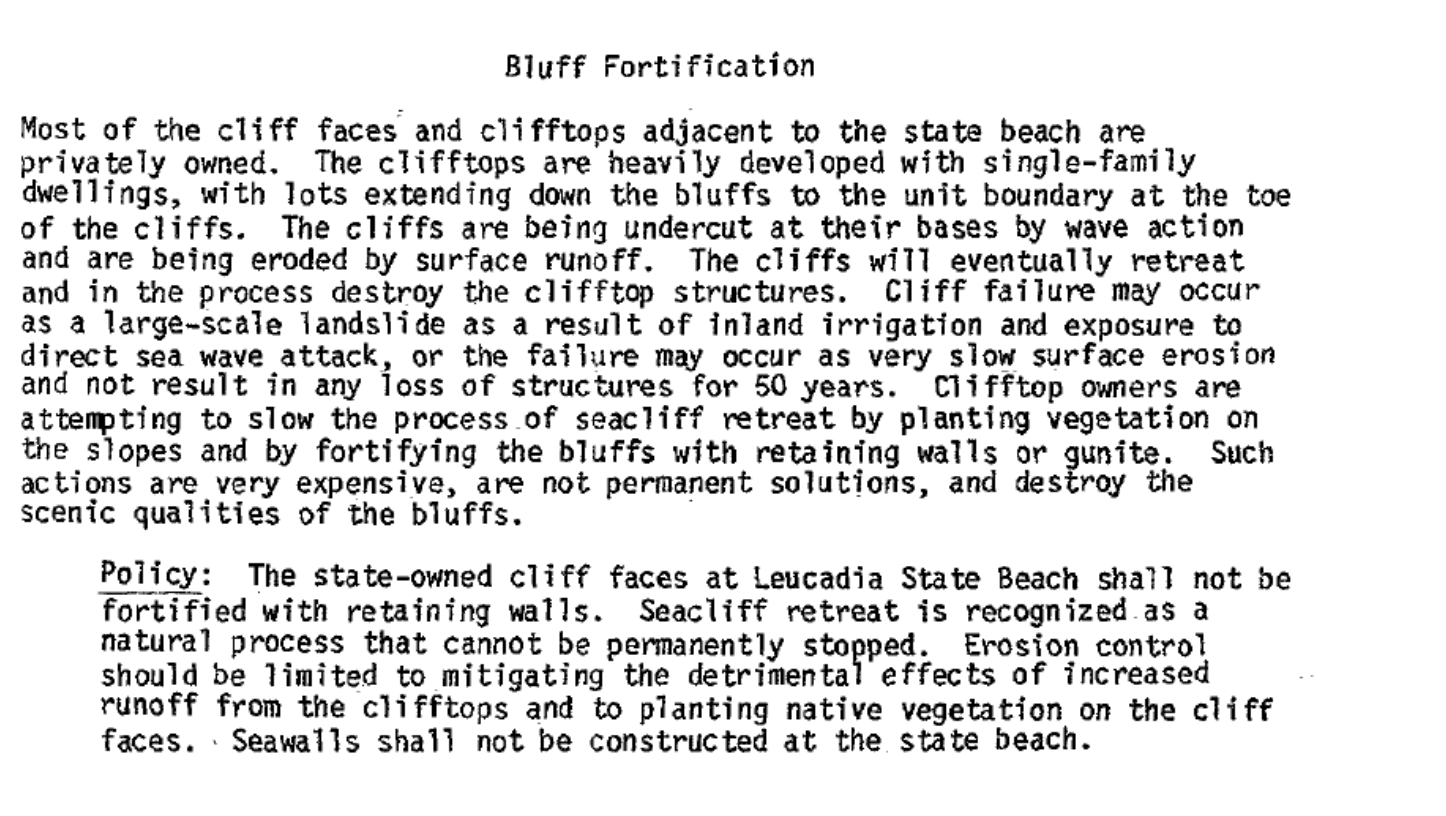 Image 3
Risk at Parking Lot and Trail
'2018 Beacon's Beach Improvements' Presentation by the City of Encinitas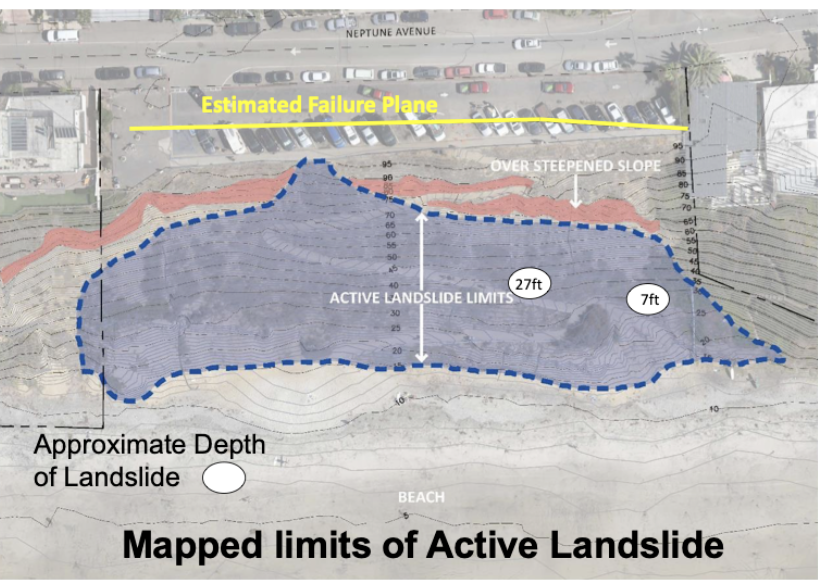 Image 4
State Parks Policy Prohibiting Construction of Seawalls
State Park General Plan, page 14