Just to give you an idea of how windy it was at the beach during Tuesday's storm. Storms expected Wednesday, Thursday, and Friday should have more wind and rain.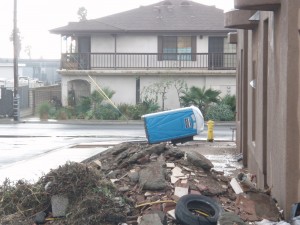 A combination of wave action and sand erosion is creating havoc on the beach. Fire pits along the beach are breaking apart and washing away. Crews that come to clean up the beach after storms have not moved these items. They must be waiting for the fire pits to just wash away.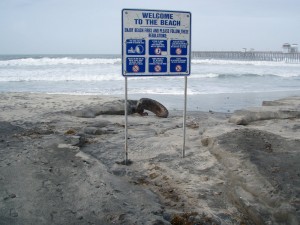 Playground at the pier has become a hazard for children as sand is washed away from concrete. Again, crews that were at the beach cleaning up after the storm did nothing about the hazard- no warning signs posted, no shoveling of sand back in the area, and the playground is not closed. Click on images to enlarge.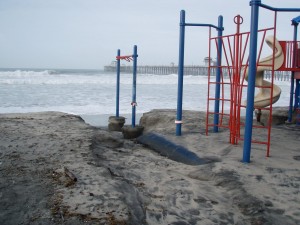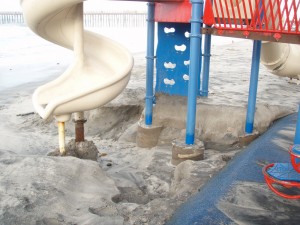 Perhaps when the road gets covered with so much sand after every storm, the problem is not sand on the road, but the road built on the beach. With the added surge from the wind and swell, waves even at lower tides wash up and over the road, leaving sand and seaweed in the road. This morning, crews were out scraping the sand off the road and putting back on the beach. The trouble is that the heavy machinery damage the road and curbs. All along the strand, the worst erosion of sand is in areas where the curb is missing. It doesn't seem that the clean up effort is helping the life span of the road, or the homes. The problem is that the road and the homes are ON THE BEACH. Moving around the sand does not change that fact.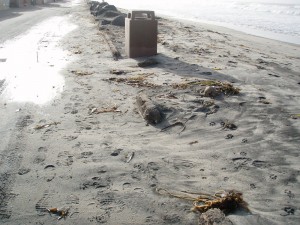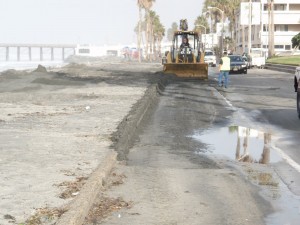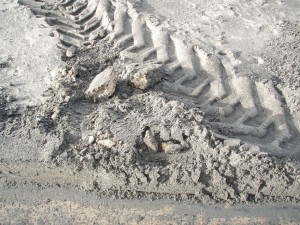 The other reason that developing west of the bluff is a bad idea- bluff erosion. A natural process that creates beaches and happens every time it rains. Most of the homes are protected by retaining walls to prevent mudslides like this (that concrete curb surrounds a concrete platform now covered by mud). A few more inches of rain in the next 3 days ought to soak the bluffs even more.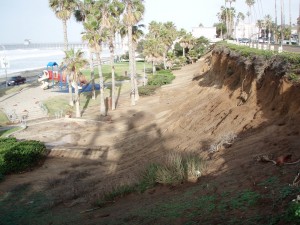 Whether it was a good idea 50 years ago to build in this area, it is no longer a good idea. The road was taken out and homes destroyed in 1980 because of a storm. Nothing has been done to remedy the problems pointed out to the city in studies done after that failure except some beach fills. It is sad that the city was not able to learn from the last catastrophe and address the issues of the dynamic coastline and development on the beach and has allowed more development along the Strand without repairing the road or rip-rap, or even having a plan to do so. It seems like the city is acting foolishly by just ignoring the problem and hoping it won't happen again. Well, look out, because we are in the midst of the biggest storm in decades.