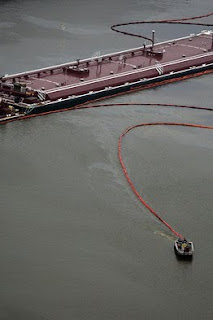 Texas

Collision Causes Crude Oil Spill in Texas

http://online.wsj.com/article/SB10001424052748704562504575021540843701582.html?mod=rss_Today%27s_Most_Popular
The U.S. Coast Guard says about
450,000 gallons of crude oil
has spilled into the Port of Port Arthur area in southeast Texas after two vessels collided.
"This is a big one,"
said Petty Officer Third Class Richard Brahm. The Port Arthur spill can be described as large, according to the classification established by the International Tanker Owners Pollution Federation Ltd., which tracks oil spills around the world. According to the ITOPF, large spills are those that are over 700 metric tons. The size of the Port Arthur spill is estimated at about
1,500 metric tons
.
The spill is the second to afflict the Texas coastline recently
; in October, a supply vessel crashed against a Liberian-flagged oil tanker offshore of Galveston, resulting in an 18,000 gallon oil spill—equivalent to about 429 barrels of oil or 58 metric tons.
Texas Spill: Oil and Water Still Don't Mix (Mother Jones)
http://motherjones.com/blue-marble/2010/01/texas-spill-nope-oil-and-water-still-dont-mix?utm_source=feedburner&utm;_medium=feed&utm;_campaign=Feed%3A+motherjones%2FTheBlueMarble+%28Mother+Jones+%7C+The+Blue+Marble%29
"In a healthy dose of irony, the Port Arthur Chamber of Commerce's motto is, "Where oil and water mix, beautifully." Proponents of drilling often tout how environmentally friendly their practices are these days. But Saturday's spill is a healthy reminder that no matter what you do to oil, there's nothing very green about it."
California

AP Article Says Environmentalists Paid Thousands By Oil Company
http://www.keyt.com/home/ticker/82431007.html
Oil company, environmental groups in secret deal
http://calcoastnews.com/2010/01/oil-company-environmental-groups-in-secret-deal/
Maldonado and Nava clash over offshore oil
http://calcoastnews.com/2010/01/maldonado-and-nava-clash-over-offshore-oil/
Firms, trade group helped fund GOP legislators' retreat
http://www.latimes.com/news/local/la-me-junket24-2010jan24,0,7805604.story
"Chevron and other oil companies have long battled a proposed oil-extraction tax. One such proposal was vetoed last year by Republican Gov. Arnold Schwarzenegger.Asked why Chevron donated the money for the retreat, Comey said, "We wanted to attend the event and we made the contribution." He added that the firm supports such conferences for legislators of both parties "to facilitate their ability to reinvigorate the economy."Plains Exploration would have been the major benefactor of a bill last year to open the door to more oil drilling in the Tranquillon Ridge field off the coast of Santa Barbara County. Fourteen of the 15 Republicans in the state Senate voted for the legislation. The bill failed, but the proposal is back in Schwarzenegger's proposed budget for the next fiscal year.The company sent a representative to the retreat "to get the message out on the Tranquillon Ridge project," Plains Exploration spokesman Steve Rusch said."
Florida

Offshore drilling resolution delayed again
http://www.tampabay.com/news/localgovernment/offshore-drilling-resolution-delayed-again/1067505
"Commissioners agreed with the draft's main premises: that the city's economy relies heavily on tourism revenues tied to the beaches, especially the centerpieces of Honeymoon and Caladesi islands, and that oil wells within 3 miles of the coastline could risk Dunedin's "largest industry and quality of life.""
Nelson: Oil drilling is incompatible with military training
http://blogs.tampabay.com/buzz/2010/01/nelson-oil-drilling-is-incompatible-with-military-training.html
"It remains the Defense Department's policy that military exercises and training in the eastern gulf are incompatible with oil drilling operations.''