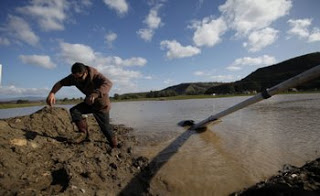 TIJUANA RIVER VALLEY — The San Diego City Council on Tuesday will consider declaring a local state of emergency for the Tijuana River Valley due to the possibility of severe flooding that could create "an imminent threat to life and property."
Under the declaration, city officials could spend up to $4.4 million in storm-water funds to excavate several of the river's clogged drainage channels this month in advance of the rainy season.
In December, four horses and nearly a dozen goats drowned as moderate storms caused water to overflow the river and channels that were choked with sediment, vegetation and debris. Adding urgency is a prediction of El Niño conditions that could mean a wet winter for San Diego.
"We know based on what happened last winter that if the same or worse storms happen, there is a potential for a lot more flooding," said Tony Heinrichs, director of the city's Storm Water Department. "We want to get in there now and dispose of the sediment so the flood-control channels operate as flood-control channels."
John Gabaldon, president of the Tijuana River Valley Equestrian Association, said his group is pleased with the proposal.
"It's necessary, and if it passes, it will prevent devastation and the loss of some very vibrant businesses down there," Gabaldon said.
Heinrichs said a recently completed portion of a U.S. Department of Homeland Security border fence in an area known as Smuggler's Gulch greatly changed the hydrology of the area just north of the U.S.-Mexico border.
The valley routinely gets tons of trash and debris when it rains, but Heinrichs said the project allowed more sediment to clog nearby storm-drain channels.
"We also believe the water flow itself increased in velocity, which causes scouring action and leads to potential flooding problems," he said.
Homeland Security waived federal and state laws for the fence construction, including for drainage and erosion controls.
Heinrichs said that while the city seeks the emergency declaration, it also is asking regulatory agencies to expedite emergency cleanup permits.
The city also will consider asking Homeland Security officials Tuesday to affirm that the order waiving all laws for the fence project extends to city flood-control work in the area. That would help streamline the permitting process, Heinrichs said.
On Wednesday, Mayor Jerry Sanders and Councilman Ben Hueso met in Washington, D.C., with Homeland Security and Army Corps of Engineers representatives. Mayoral spokesman Darren Pudgil said the meetings were productive, with both agencies pledging to work "to improve the situation in the valley."
Heinrichs said there is a long-term plan to have the Army Corps conduct studies of Tijuana River Valley flooding issues that would lead to improvement projects to stop the annual deluge of trash and debris.
Finally, the city has been working for two years on a multiyear master cleanup permit that would allow the work to proceed year-round as needed. The master permit involves all flood-prone areas of the city.
The city expects to receive the permit by the end of the year. However, Tijuana River Valley horse owners and farmers have complained that would be too late. The river and some channels were not cleared after December's rains and remain clogged.
Dick Tynan, who owns Kimzey Ranch on Hollister Street and Monument Road, where many of the animals drowned, said he has heard residents threatening litigation if they lose livestock and crops again.
"A lawsuit could be possible," Tynan said. "That is very, very likely. Two inches of rain will kill this valley if it's not cleaned up."
Heinrichs said he is hopeful that council members will declare the local emergency.
"We want to do what we can to protect life and property," he said. "When you actually have horses and goats drown and the (county's) Swiftwater Rescue Team saving people and animals, it's fresh in people's memories."
Union-Tribune Staff Writer