banner image by Udo Wahn
Our position in a nutshell: Get the tracks off Del Mar's coastal bluffs ASAP.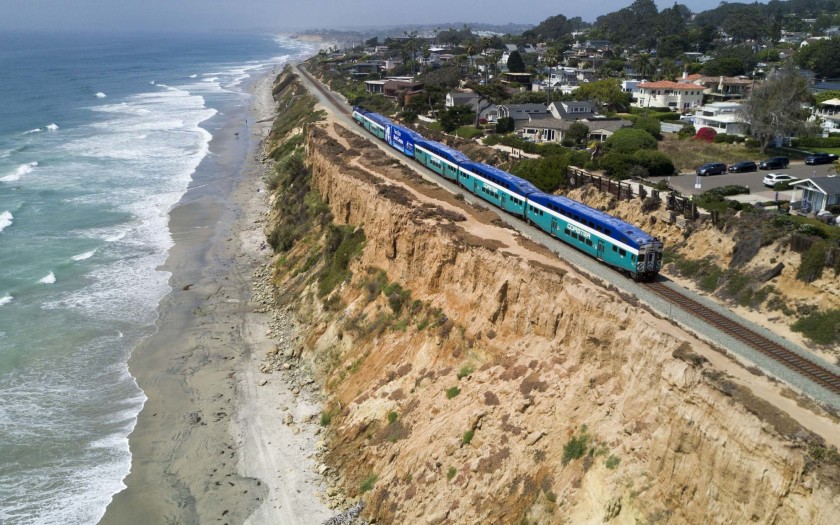 Tracks on the edge
If you've ever ridden the Coaster or Surfliner through Del Mar, you've paused to appreciate the dramatic beauty of the Pacific Ocean as it glides past your train window. And then maybe you have wondered if you should feel concern as you roll along, mere feet from the edge of 70 foot coastal cliffs for almost 2 miles.
Del Mar's bluffs are eroding about 6 inches per year. Along this stretch of the bluff, landslides are both natural and unpredictable. In late 2019 and early 2021, landslides caused the bluff to shrink to within just feet of the tracks. Water associated with ongoing urban use in the City of Del Mar is known to destabilize the geologic core of the bluffs. And one threat in particular — sea level rise, which accelerates erosion by clawing at the base of the cliffs — leads us to the clear conclusion that the track must be moved inland.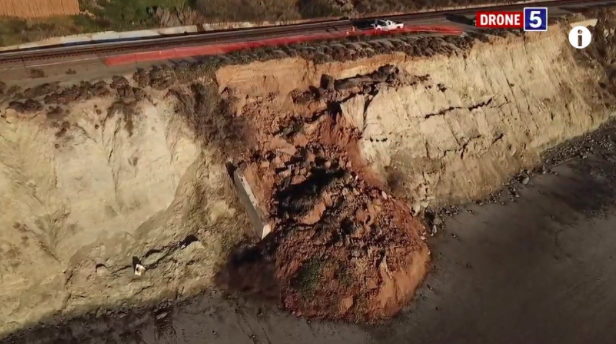 NBC5 footage
In the long term, there's an opportunity for the City of Del Mar to re-envision a two-mile slice of its stunning coastline. But first, the short term bandaids need to be bearable (we shouldn't be severing coastal access in large stretches of Del Mar, for instance). Plus, we have to lay the groundwork for a future where our bluffs and our coastline still exist for everyone to enjoy.
As a reminder, this is not the first time the train has been at risk. On New Year's Eve 1940, the train fell off the bluff in Del Mar. We cannot let history repeat itself.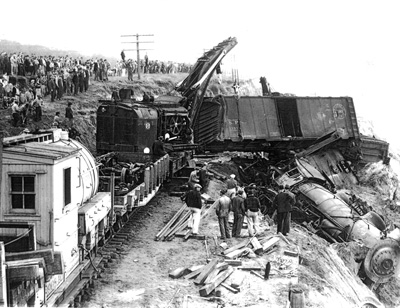 Train wreck. First three days January 1941.
Photo courtesy Larry Brooks, DMVA Historical Committee from http://sandpiperdelmar.org/Pages/News2012_02/February2012_07.html
Responding to the public safety emergency
SANDAG, the transportation planning organization which manages this section of rail, has been trying to stabilize the track for nearly two decades. The most visible aspects of this work has taken the form of hundreds of soldier piles as well as retaining walls, which both help stabilize the upper bluff; as well as emergency repair work, where the response to large bluff collapses can result in the construction of seawalls, such as the ones visible from the beach at 7th, 11th, 12th and 13th street.
In planning for the future, moving the tracks off the bluffs — AKA the 'realignment' process — will include evaluating route options that fit with the region's other transportation goals, obtaining environmental permits, acquiring properties, and perhaps most importantly, finding a few billion dollars (estimates vary between $2.5 and $5 billion) of funding.
All of this will take some amount of time. In order to address the severe erosion risks present today, SANDAG has come up with extremely aggressive stabilization measures that it says will buy the bluffs thirty years of stability.
SANDAG's proposed measures were presented to a group of elected officials, public agencies, and non-profit organizations; including the Surfrider Foundation San Diego County Chapter, on April 12, 2021. These are proposed plans that still need to receive input and approval from the California Coastal Commission, but it is important to know that approximately $100 million funding for the projects has already been secured from federal, state, and regional sources.
Broadly, SANDAG is proposing the following measures:.
On the upper bluffs, grading and the installation of more soldier piles and retaining walls, as well as trenching.
Along the beach (at the base of the bluffs), the installation of more seawalls along specific sections of the bluff.
Here is a rendering of a current proposal for a seawall and grading work for 11th street to 15th street: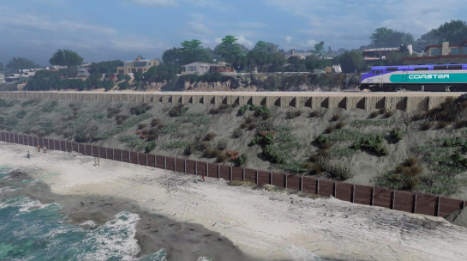 SANDAG rendering of seawall at lower (base) of bluff, soldier pile wall at upper (top) bluff, artificial grading and fill is placed between upper and lower walls. Top of the bluff is graded flat. Natural bluff formation is compromised, and beach access across bluffs is lost.
Surfrider's take
After 15+ years of pushing to realign the tracks, we're happy to see that many regional leaders have come around and are calling for realignment. We want to see the tracks moved off the bluff as fast as possible so we can avoid the worst impacts of bluff stabilization efforts.
Surfrider is concerned that the stabilization efforts proposed — namely large lengths of seawalls — will take away beach space in the iconic surf and beach hangout areas of Del Mar. Seawalls take up beach footprint (in other words, they steal and occupy beach space), and they also increase erosion of the beach and artificially lock in bluff sand.
In addition to destructive seawalls, we are also wary of potential issues such as:
Accelerated bluff erosion, resulting from the installation of more soldier piles on top of the bluff
A lack of comprehensive mitigation for the loss of the public beach
The intrinsic damage that grading will cause to natural bluffs
Bad precedent, where permitting for giant seawalls in San Diego should be avoided at all costs
We know bluff stabilization is in response to a current public safety risk. However, we're unhappy to see that plans for stabilizing Del Mar's bluffs appear in the form of long seawalls, so far without plans to maintain coastal access for all.
This stabilization should not move forward without ensuring coastal access in compliance with the Coastal Act.
SANDAG should provide real estimates of erosion impacts that allow us to calculate the monetary cost of lost public beach space, which can inform mitigation fees.
To avoid a lengthy presence of beach-narrowing seawalls - especially with the exponential increase of sea level rise - our regional rail entities and public agencies should expedite realignment as quickly as possible. This means pursuing funding at the same time as planning and design — a strategy which should be considered feasible since it's one the region took when it came to bluff stabilization.
Seawall removal should occur as soon as the tracks are realigned, and funding for seawall removal should be reserved as soon as possible.
How you can get involved
Feel passionate about the beach, bluffs, and train safety in Del Mar? Sign up here to get alerts about this project so that you have the chance to comment virtually on local presentations and decisions. You can also attend one of our regularly scheduled beach preservation meetings, where we'll discuss this ongoing issue regularly. For more on Surfrider's stance on this issue, check out these resources:
2020 Comments to Coastal Commission
Policy Statement - Blufftop Relocation in Del Mar