By: Dana Williams
On Saturday, April 14, 2018, Gabriela Torres, Surfrider Foundation San Diego's Policy Coordinator, was honored with a "Lifetime Achievement" award by ASC San Diego at Mission Bay High School. She also kicked-off the game with the official coin toss.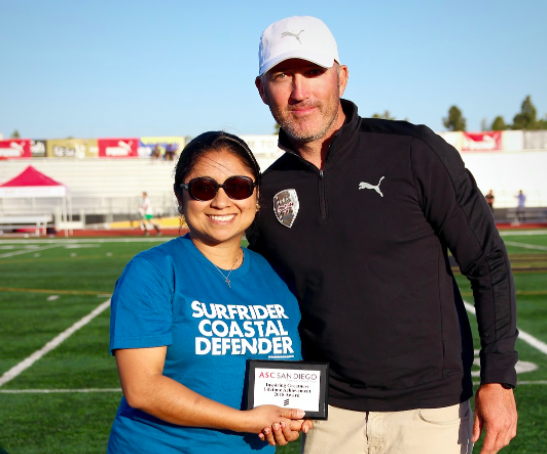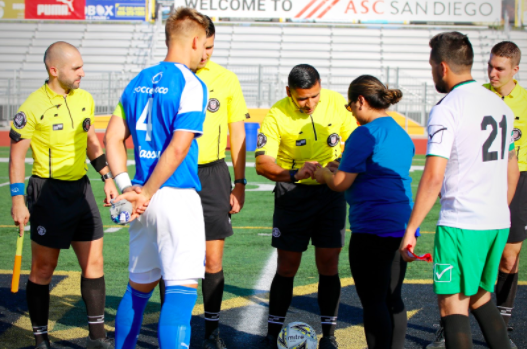 Surfrider Foundation San Diego nominated Gabriela for this award due to the incredible work she is doing to address the toxic water crisis in the Tijuana River Valley on our organization's behalf. Gabriela joined Surfrider Foundation San Diego in September 2017 as a part-time policy manager dedicated to Surfrider's No Border Sewage program. Gabriela was drawn to the border sewage issue because of the environmental impact it has on the historically low income city of Imperial Beach and out of concerns for the Mexican residents living just across the border unaware that they are swimming polluted waters. She is perfectly suited to lead this issue: Gabriela is fluent in Spanish and has a Bachelor of Science in international business and a law degree with a focus on environmental protection. In a short period of time, Gabriela has played a significant role in raising awareness of the severity of the crisis at the U.S./Mexico border, advocating for clean water with key policy makers and creating positive change in both Southern California and Baja communities. Her leadership, passion and work to find collaborative solutions to keep our beaches and communities free of pollution and harmful toxins has been remarkable.
Gabriela, a native San Diegan, was raised in Sherman Heights a predominantly Latino and low-income neighborhood of San Diego. She grew up knowing that Imperial Beach and the Tijuana Sloughs were polluted; in fact, her parents refused to take her as a child because of the high risk of becoming ill. She finds it hard to comprehend that decades later we are still battling the same issue. During law school, Gabriela lived in her parents' home in Baja and would commute to law school in San Diego everyday — this heightened her interest in the well-being of both border cities and the environment surrounding it. After law school, Gabriela spent a decade living in Madrid and London before she heard the call of San Diego. Gabriela takes much pride in her San Diego roots and is dedicated to using her profession as a lawyer to improve the quality of life for residents and to protect the environment. She is passionate about this issue because she believes it is our moral imperative to protect the environment and the health and safety of people on both sides of the border.
Gabriela is leading all relevant parties to advance the collective goal of implementing a permanent solution to the border water crisis in a multitude of ways: She is disseminating information via social media, blogs and meetings; attending key meetings and making recommendations with tangible solutions; applying pressure on elected officials; and focusing on solutions at the source with engagement of the Mexican population.
Gabriela attends a number of critical meetings on Surfrider's behalf. Here are some of the meetings she attends and why:
Minute 320 Water Quality Working Group.
As a member of this group, Gabriela meets with all relevant stakeholders (U.S. and Mexican) to present and discuss viable and tangible solutions to the border sewage problem. This group provides direct access to key decision makers and influencers in a range of public agencies. The working group members are tasked with presenting actual solutions which the core group members and Commissioners can choose to accept. Gabriela is committed to presenting long, medium and short term solutions to the Minute 320 water quality working group.
Tijuana River Action Network (TRAN)
The TRAN is another working group Gabriela is a part of. TRAN is a group of collaborative, grassroots-community groups and non-profits from the United States and Mexico, committed to cross-border collaboration and interested in the preservation and protection of the Tijuana River Valley. The goal of the group is to engage in outreach, education and advocacy for natural resources in order to conserve and restore the Tijuana River watershed. Until recently TRAN would dedicate the month of September to a series of clean-up events in the Tijuana River Valley. Unfortunately, the Tijuana River Valley is so contaminated that clean-up activities can no longer continue for health concerns. However, TRAN hopes to coordinate alternative education events.
International Boundary Water Commission (IBWC) Citizens Forum
This is a position where Gabriela holds a seat and the role is to serve as a bridge between the IBWC and the citizens of the area to better disseminate information. This allows Gabriela to reach the people most affected to better approach Minute 320 and TRAN.
Meetings with Mexican Non-Profits and Other Leaders on The Border Sewage Issue
Gabriela is now making a concerted effort to support, collaborate and exchange information with key Mexican non-profits so that they know Surfrider is a resource on this issue. Relationships with Mexican non-profits are healthy and the strength of these continues to grow. In response to her concern that information concerning beach water quality is poorly disseminated in Baja California, Gabriela helped coordinate a partnership with Proyecto Fronterizo, a Mexican non-profit dedicated to beach water quality. Gabriela attends key public meetings in Mexico related to beach water quality to better support policy objectives. She attends the Clean Beach Committee meetings (Comité de Playas Limpias) in Tijuana where all three levels of Mexican government meet to discuss beach water quality, health and safety and water infrastructure.
Baja California Outreach.
Surfrider is developing our network of Mexican nationals and expats who live or visit the beaches in Mexico most affected by the sewage problem. To achieve this objective we have identified social media communities that represent expats living in Baja California.
****
Read more about the toxic water crisis here.