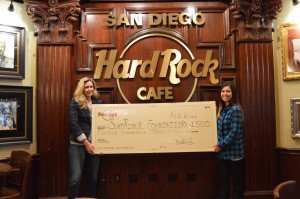 FOR IMMEDIATE RELEASE
Contact: Jill Gilboy
Hard Rock Cafe San Diego
(619) 615-7643
Hard Rock Cafe San Diego teams up with Surfrider and makes donation to benefit the Foundation's local chapter

SAN DIEGO, CA, February 23, 2015 – Hard Rock Cafe San Diego joined forces with the Surfrider Foundation in an effort to raise funds for the protection and preservation of the world's oceans, waves and beaches. As part of the exciting partnership, Hard Rock Cafe San Diego donated $1,500 to the local San Diego County Chapter of the Surfrider Foundation, and also created a one-of-a-kind pin for fans and supporters to enjoy! The limited edition pin was designed by a Surfrider volunteer and features an image of a wooden surfboard and guitar with a ribbon on the bottom that reads: protecting our oceans, waves and beaches since 1984. Guests are encouraged to look out for Hard Rock Cafe's newest Surfrider pin which will be available this spring.
"One of our core volunteers designed the signature pin to represent our love of surfing and music, and we couldn't be more excited about our partnership with Hard Rock Cafe San Diego to help raise awareness and funds for the cause," said Haley Haggerstone, San Diego County Chapter Manager for the Surfrider Foundation. "We're even more stoked to be the beneficiary of Hard Rock Cafe's upcoming 'PinDiego' event, where we'll have the opportunity to create another Surfrider Foundation pin!"
For more information, visit www.HardRock.com/SanDiego.
About the Surfrider Foundation San Diego County Chapter
The Surfrider Foundation is a grassroots nonprofit environmental organization dedicated to the protection and enjoyment of our world's oceans, waves and beaches through a powerful activist network. Founded in 1984 by a handful of visionary surfers in Malibu, California, the Surfrider Foundation now maintains over 250,000 supporters, activists and members worldwide. For an overview of the Surfrider Foundation San Diego Chapter's current campaigns, programs and initiatives visit www.surfridersd.org or contact them at info@surfridersd.org.
About Hard Rock International
With a total of 198 venues in 63 countries, including 152 cafes, 21 hotels and 10 casinos, Hard Rock International (HRI) is one of the most globally recognized companies. Beginning with an Eric Clapton guitar, Hard Rock owns the world's greatest collection of music memorabilia, which is displayed at its locations around the globe. Hard Rock is also known for its collectible fashion and music-related merchandise, Hard Rock Live performance venues and an award-winning website. HRI owns the global trademark for all Hard Rock brands. The company owns, operates and franchises Cafes in iconic cities including London, New York, San Francisco, Sydney and Dubai. HRI also owns, licenses and/or manages hotel/casino properties worldwide. Destinations include the company's two most successful Hotel and Casino properties in Tampa and Hollywood, Fl., both owned and operated by HRI parent company The Seminole Tribe of Florida, as well as other exciting locations including Bali, Chicago, Cancun, Ibiza, Las Vegas, Macau and San Diego. Upcoming new Hard Rock Cafe locations include San Juan, Rio de Janeiro and Marrakech. New Hard Rock Hotel projects include Daytona Beach, Dubai, Los Cabos, Dallas-Fort Worth, Tenerife, Abu Dhabi, and Shenzhen and Haikou in China. For more information on Hard Rock International, visit www.hardrock.com.
###