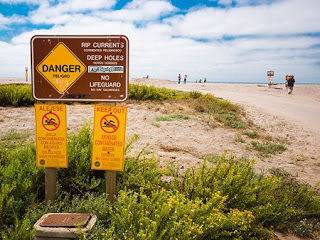 by Liz Gill
At Imperial Beach, San Diego's southernmost beach before the U.S.-Mexico border, surfers may need not just a wetsuit, but also a hepatitis A vaccination before going in the water.
The California coastline from Imperial Beach to the international border is home to San Diego County's best surf spots, but it is also where the Tijuana River empties a dangerous amount of sewage, chemicals and other pollutants into Imperial Beach waters when it rains.
"That's why I don't go in the water," said George Gomez, a San Diego resident who prefers to walk along the beach instead. "If I go in the water I go to the Strand or more beaches up north, but I don't go in here."
While the pollution at Imperial Beach is nothing new, a team of researches at San Diego State University led by professor Rick Gersberg found that hepatitis A was present in 80 percent of water samples off the Imperial Beach Pier in 2007.
The beach, which is closed by the County Department of Environmental Health an average of 200 days a year, is now the focus of an initiative to keep its users safe.
"Surf from the Sick" is a program created by researchers at San Diego State University's Graduate School of Public Health, the nonprofit environmental organization Wildcoast and the local Imperial Beach Health Clinic to provide 1,200 free hepatitis A vaccinations to uninsured surfers, swimmers and fishermen of Imperial Beach.
"This collaboration is really unique," said Ben McCue, Wildcoast's coastal conservation manager.
"By working together, we're all adding value. We're trying to get a handle on what's going on with the water and how it's affecting the public's health so that we can provide knowledge about it."
The funding for "Sick from the Surf" comes from a $195,000 grant awarded in July 2008 from the Tide Foundation and the California Endowment's joint Community Clinics Initiative, whose goal, according to Imperial Beach Health Clinic's program development coordinator Nancy O'Sullivan, is to help establish nontraditional alliances between agencies to improve public health.
"It's worked really well to pool our resources together in order to get a change in awareness about public health, a change in attitude, and also a change in behavior," said O'Sullivan.
O'Sullivan said that while the community clinic might not be able to control outside circumstances, such as what flows across the border by way of the Tijuana River, it does have the power to help people start changing their behavior.
McCue understands that simply telling people not to go in the water isn't a viable solution to the problem.
"When there's a beach closure, we advise that people shouldn't go in the water," said McCue. "Some people still say, 'The waves are good, I'm going to go in.' So, if people go in the water and do get sick, this is a way that we can provide healthcare."
Despite a permanent metal sign warning of the water quality on Imperial Beach, surfers are still drawn to the waves from the Imperial Beach Pier to the Tijuana Slough whether the beach is closed or open.
Even on a windy, overcast day in late spring, David Crawley and Monica Fisher paddled out to catch waves underneath the Imperial Beach Pier, a testament to the quality of waves in south San Diego.
Crawley, a San Diego resident, said that he surfs at Imperial Beach about three times a week, but the water quality prevents him from going in it any more than that. Fisher added, "Mission Beach is better."
While neither of them has ever gotten sick from the water, Fisher knows of other friends who have gotten sick from surfing.
"My friend was down here surfing and he cut his foot," Fisher said. "They said he had some minor type of hepatitis because of the water."
While both Crawley and Fisher were vaccinated for hepatitis A as children, both said they think people should get vaccinated if they haven't already.
Rick Gersberg, the microbiologist who led the hepatitis A research at San Diego State University, said that the water can pose a health risk.
"I think everyone knows that after it rains the water is contaminated. Few go in the water at its worst, but at that time, it is a fairly large health threat."
Travis Davis, who was stationed outside Imperial Beach from 2003 to 2005 with the Navy, said that beach closures come with living in the area.
"They would cancel all our operations for that day or week or however long it took for the ocean to heal itself. I've never gotten sick from it because I never went in it," said Davis.
Gersberg, who said he has been working at the border nearly two decades, is currently working on a study to test for chemicals and toxins present in fish from Imperial Beach.
He also hopes to do a test for hepatitis A antibodies in surfers and frequent ocean-goers of Imperial Beach to see if these people developed a type of immunity to the disease from being exposed at a young age.
While "Sick from the Surf" has had success with research, attempting to stop the source of the water pollution is another issue.
Gersberg said that a difficult obstacle in solving the water quality in Imperial Beach is the fact that the programs can't control what flows across the border via the Tijuana River into Imperial Beach.
"Mexico has to update their infrastructure to serve more people with sewage treatment," said Gersberg.
McCue, of Wildcoast, which is registered as a nonprofit both in the U.S. and in Mexico, is trying to work with people on both sides of the border.
"To resolve the issue, it's about getting everyone together and getting people too look at it as a shared health and economic issue," he said.
McCue said that an obstacle in solving this problem is California's ability to direct resources to Mexico.
Wildcoast has recently been working on Senate Bill 167, a piece of California legislation that attempts to amend the California Public Resources Code to change the way the state directs tires to Mexico by allowing the California Integrated Waste Management Board to fund projects in Baja California.
"We export 2 million tires to Mexico every year to keep them out of California landfills and then they end up coming back when it rains through the Tijuana River channel at the end of the pipe."
According to McCue, the Senate bill attempts to stop this "tire cycle" by working with Baja California agencies directly.
Whether this similar type of method will be effective in solving the sewage that flows into the Pacific Ocean remains to be seen.
For now, Wildcoast is continuing its partnership with the "Sick from the Surf" initiative with outreach on the beach and in the water by letting people know about the free hepatitis A vaccinations as well as handing out surveys in order to measure the frequency of people getting sick from the water.
"The response has been really positive," said McCue "What they get is two shots that are six months apart. Without insurance it can cost $200, so getting that for free is huge."
O'Sullivan also collects data from the surveys people fill out about becoming sick from ocean use.
Reading from one of the most recent surveys collected, O'Sullivan said, "This is somebody who became sick in the fall with diarrhea, vomiting, and upset stomach. They describe their ocean use as once a week for surfing by the pier."
O'Sullivan said that cases like these are fairly common. Other illnesses she frequently comes across in the surveys are ear infections, sore throats, skin infections, and even pink eye.
"When you talk about how the water is dirty in Imperial Beach, people get mad because they think you're slandering their city. So, we're trying to present the issue from this angle: it's a public health issue," said O'Sullivan.
In O'Sullivan's opinion, the two-year project is just getting started, as only about 12 of the 1,200 free vaccinations have been given out.
"We're still at the beginning. For now, we're still in the information-gathering year. By July, we hope to go out with a strong message out on the beach and make our presences known."