Clearing of brush will begin on June 10, 2019 as restoration is finally under way for the historic Princess Street Coastal Access Trail in La Jolla, San Diego. The Surfrider Foundation San Diego Chapter partnered with the Environmental Center of San Diego (ECO San Diego) to advocate for and support the restoration of this beloved pathway. Eco San Diego has been awarded a $38,860 seed grant for restoring the trail to allow for public access to a stretch of the shoreline isolated by development over the years. The grant is only the first phase of the project.
The planned trail will descend 50 feet from the public street at the blufftop to the beach and State Marine Reserve and La Jolla Underwater Park and will be open between sunrise and sunset. The Environmental Center, in partnership with the San Diego Chapter of the Surfrider Foundation will maintain and monitor the trail and landscaping upon completion. Pam Heatherington, Board Member and Project Lead at ECO San Diego, said "We are thrilled to have the support of the California Coastal Conservancy. We will work with urgency to honor the decades-long efforts of local coastal access advocates that has yielded this important victory for the public."
The trail has been the subject of a 40 year long effort by the community and California Coastal Commission to protect and restore the trail that had been used since the early 1900's as a path to the beach by fishermen, skin divers, and surfers. The trail was blocked off and became the subject of litigation and Coastal Commission proceedings in order to restore public rights of access.
Later phases of the trail plan will include fundraising, construction, and a Native American blessing before being open to the public.

The project is endorsed by numerous community organizations, including the San Diego Chapter of the Surfrider Foundation, La Jolla Park & Beaches, WindanSea Surf Club, and the San Diego Dive Club. A huge thank you to all the advocates that helped bring access back to this beautiful location. Surfrider is especially grateful to Pam Heatherington of ECO San Diego, coastal-access advocate Anthony Ciani, our current Beach Preservation Co-Lead Kristin Brinner, and former Beach Preservation Co-Lead Tom Cook.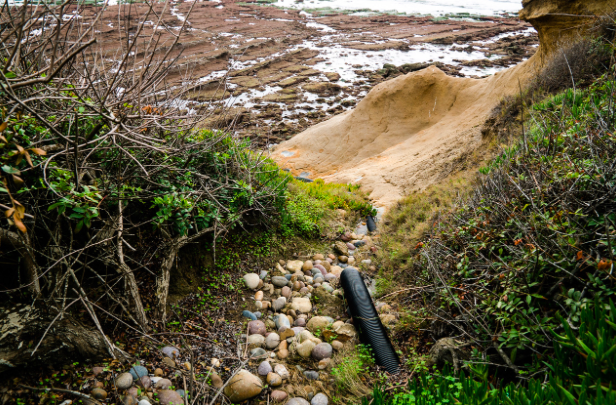 Read more: Grant to help restore historic Princess Street Coastal Access Trail
La Jolla Property Owner Loses to Coastal Commission