09.02.08
Live Music in the Afternoon from Silent Comedy, One Drop, The Professors and Shaka Buku!
By SFSDAdministrator
Check out this great lineup including some of San Diego's best bands:
THE SILENT COMEDY!!!
"The Silent Comedy was started with two goals: To be a recording project that could involve many of our musician friends, and to be an outlet for this Americana material we had been writing, " J. John explains. "We didn't really intend for it to be a live band at all. One thing led to another, and we needed to play a show that Dehra Dun was unavailable for, so we decided to give it a shot." I. Forbes, who had played violin with Dehra Dun, and longtime friend J. Michael were enlisted to help with the first show. "After that, things just took off." Remembers J. Michael.

The band changed from its original idea of a fluid lineup and a strict 'recording only' vision to a five piece core with a variety of guests.
In addition to a cast of guest performers, The Silent Comedy is known for its frequent instrument changes, and lively stage antics. Visit www.myspace.com/thesilentcomedy for some of their songs. Their live show has become their defining characteristic so be part of the experience at the Paddle For Clean Water Festival.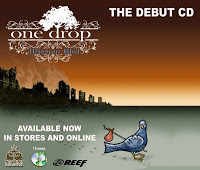 ONE DROP!!!
One Drop is a Roots Rock Reggae band with James Alger (Vocals, Rhythm Guitar, Melodica), Bart Neglia (Lead Guitar, Back up Vocals) Art Gener (Bass) and John Mobley (Drums)
One Drop's music embraces the California Beach Culture it emerges from. Growing up in an ethnic diverse area saturated with colorful sounds ranging from Reggae , R&B; to Rock, the group is able to embrace the beautiful qualities of these genres and reproduce it in a unique style. Check out www.myspace.com/onedropreggae for some of their songs and be sure to catch their set on 9/14 in OB.
THE PROFESSORS!!!
Not content to just be another surf band, The Professors are pushing the envelope of traditional surf music. There are a wide variety of styles here. In addition to straight up surf tunes, you can find elements '60s bossa nova, rockabilly, spaghetti westerns, reggae, and classic rock. It's as if you took The Ventures, Henry Mancini, Brian Setzer, Ennio Morricone, The Rolling Stones, Pink Floyd, and Radiohead; threw them into a blender, and pushed all the buttons down at the same time without the lid on. Get there early and don't miss their set. Visit www.myspace.com/theprofessorslounge


SHAKA BUKU!!!
Directly influenced by the simplicity and social consciousness of Bob Marley, the funk and groove of Stevie Wonder and the power and edge of Led Zeppelin. Shaka Buku shares a timeless and powerful message, which is based on the wisdom and foundation of Buddhist teachings and spiritual mentors such as Mahatma Ghandi, Shakyamuni Buddha, Martin Luther King Jr. and Japanese Philosopher/ Educator Daisaku Ikeda. Dubbed "Hands down the funkiest Reggae band on the planet" by Sound Connection this band delivers a crowd shakin mix of Reggae, Rock, Funk, Jazz & Hip Hop. The band takes its stage moniker from a Japanese Buddhist term which loosely translates to the goal of their music "To remove suffering and bring happiness to all people by awakening them to their inherent greatness." While such a lofty goal might prove daunting to most, Shaka Buku attacks it with pure passion. Check out www.myspace.com/shakabuku