By Scott Marciniec
For anyone who's visited the action-packed waters of Mission Bay, it should come as no surprise that the nonstop party on the surface has left its fair share of debris underneath.
Although a man-made phenomenon, the bay hosts hundreds of species of fish, crab, octopus, and plant life that have found a way to make the sandy bottom home. While life is apt to adapt, we all know the negative impact that trash can have on marine ecosystems. Without being able to dredge the bay for fear of disrupting existing wildlife, there are only a few ways to remove the debris that falls below the surface…
On the morning of August 17th, a group of volunteers arrived just after sunrise to prep their gear near a small marina on the northeast corner of Mission Bay. Nine scuba divers, two kayakers, and two trash-sorting supporters came together to clean as much trash as possible from the bottom of the bay. Split into teams of three, the divers spread out to separate corners of the marina bay, with the kayakers hovering nearby to take the full mesh debris bags and larger items the divers brought to the surface.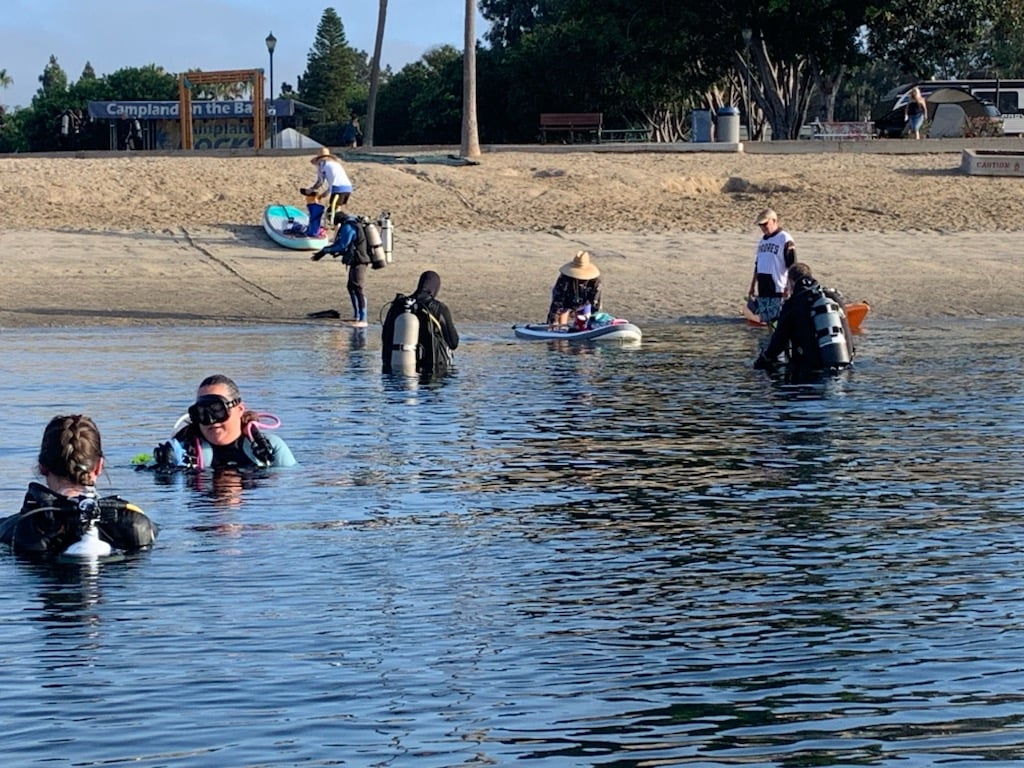 Over an hour and a half, the team collected just over ninety-five pounds of debris, ranging from small pieces of plastic to large traffic cones and grill grates. Several pieces of debris were discovered but had to be left untouched due to organisms adopting the items into their environment; a six-foot wide kiddie pool and cushioned boat seat covered in barnacles and plant life with fish living inside, for example. Shore support volunteers helped to bring everything ashore for weighing and proper disposal in nearby covered trash bins and dumpsters.
All-in-all, the cleanup was a huge success for a first-time effort from the mixed group of friends, colleagues, and scuba professionals. Plans are already underway for the next underwater cleanup in September, with the team actively looking for additional volunteers. If you or someone you know is a certified scuba diver, or wanting to help support the team on the surface (via kayak/paddleboard/etc.) or shore (sorting/weighing debris), please reach out to lead coordinator Scott Marciniec (858-789-1102, scottmarciniec@yahoo.com) for more info on how to get involved. Together, we can keep Mission Bay clean, safe, and beautiful, both for wildlife and future generations to come.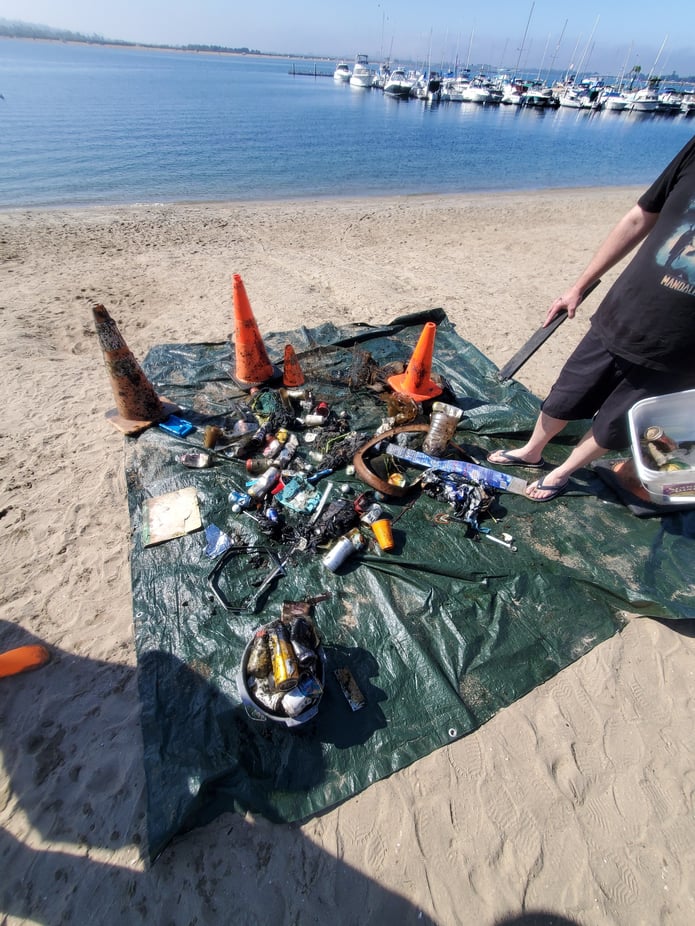 Special thanks to the Surfrider Foundation San Diego team for the idea and help with early planning, as well as Ocean Enterprises dive shop for supplying the team's rental gear.