Photos and Written by: William Bay*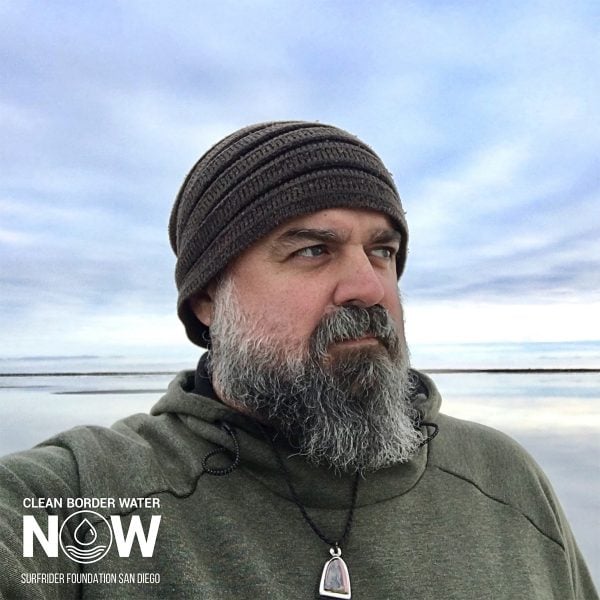 My connection to Imperial Beach is a strong, and deep one.

My name is William Bay. I currently live in Chula Vista, but I grew up in Imperial Beach. In fact my first house was on Delaware by Veterans Park. And I'm a Class of '94 Mariner.

My freshman year at Mar Vista, two things happened that would define my life: I started surfing, and I took Mr Clarkson's photography and darkroom class. And I've been surfing and photographing for 30 years since.

Less surfing these days of course, due to pollution.

Both of my passions are inextricably linked to Imperial Beach. This will always be my home. This is the place I WANT to surf, and this is where I continue to find inspiration with my photography.

These two passions led to a third when I started to become involved in the cross-border sewage issues. After seeing Serge Dedina on the news for the thousandth time, I got curious about all that infrastructure that was built in the 90s, and why it was failing.

I began attending all the IBWC meetings, and researching the problems.

One of the things I uncovered was a water quality report performed by the Border Patrol in response to their agents getting sick, or contracting skin conditions while working in or near the soil and water coming across the border. This report listed 28 chemicals, heavy metals, and bacteria that were many times above the EPA allowable for water. Some were many thousands of times above the standards!
At the time, I was photographing at the Tijuana River Mouth, or the Boca Rio as we call it. I was compelled to capture these beautiful patterns, ripples and textures that were formed as the river flowed into the sea, and the sea flowed into the ocean.

And it dawned on me that despite the beauty; The river was full of illness, infection, and disease.

I thought back to the report… What if I took a series of 28 photos, one to represent each of the contaminants in that report.

So I did. I called the project Parts Per Million, inspired by an old Bad Religion song that played on the surf flicks me and my buddies listened to before surf sessions.

For each photo, I've included the actual parts per million, and how many times above the EPA Acceptable limits they are.

I've been fortunate to be able to share this project with many people in and out of the Imperial Beach community. I've spoken in front of City Council, it's been in the Union Tribune, and a couple galleries have offered to hold shows for the series. This third passion has become a very important one in my life, to protect our community and public health. It's a mission to make others aware so we can unite against this injustice that affects citizens of Imperial Beach, Coronado and even Tijuana.

Upcoming Parts Per Million exhibits:

San Diego
March 14 - 22, 2020 (Artist reception March 14th 4pm-10pm)
Logan Ave Galeria De Arte
2168 Logan Avenue
San Diego, CA 92113

New Jersey
May 9 - June 30, 2020 (Artist reception May 9th 4pm-10pm)
Water Witch Gallery
67 Waterwitch Ave, Highlands, NJ 07732

*#mycleanh2ostory is written by local activists who are fighting for clean water.