IB, We Are Worth It
Written by: Chip Case, Imperial Beach Resident*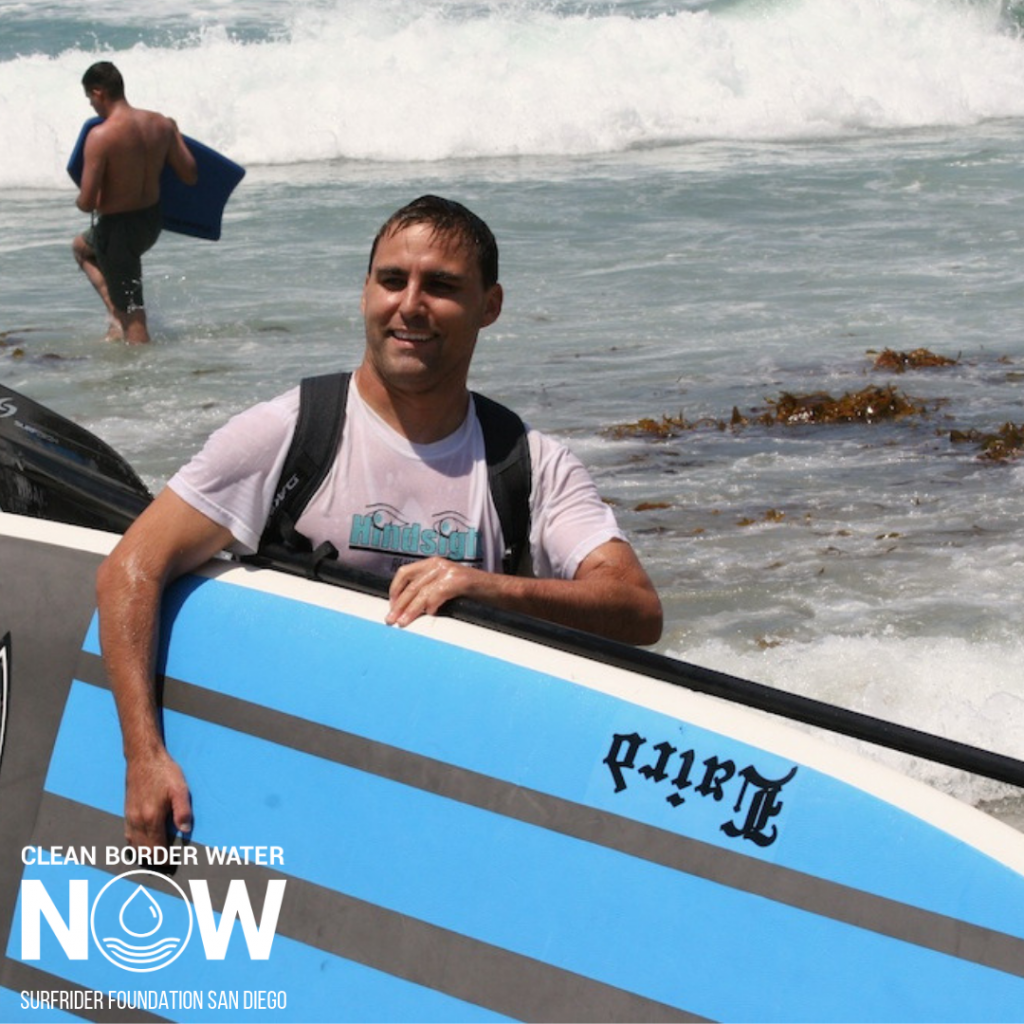 Through my entire aquatic upbringing, I never had to worry about the water I would recreate in. It was not until I took my Mar Vista Water Polo team to the beach to work out when one of the athletes reminded me nineteen years ago, "We like it here because everyone else thinks it's dirty. It keeps the kooks out. We get the waves to ourselves. Go ahead, keep telling everyone it's still dirty here." I will never forget that. It was under the pier, and the way he told it to me was so regular, like he was educating me. He replaced the surf wax up on a piling on the under side of the pier and raced toward the water.
Ten years ago our family moved to IB. I had already been teaching at MVH for ten years. My wife worked as a substitute at MVH. In February of 2017 she walked down to the river mouth with our kids and several other families to investigate the stink. Since then we have both taken a stand against this environmental crisis. I'm so proud of the leadership she has taken with Surfrider and the Clean Border Water Now coalition. In 20 years here, I'm starting to see progress. A year ago we took over The Red House Kitchen restaurant with the intent of having a local Ocean Friendly Restaurant to spread the word for clean beaches and water. We hire, buy, and serve local. Stop by anytime, and you will see no single use plastics for in-house use, (and we try to keep the to-go use to a minimum.)
Obviously, the constant flow of pollution is maddening. I've taken that frustration and started a photo blog taking the same 9 photos of the TRV at Dairy Mart Road twice each month to show how the area changes throughout the year. It has been more than two months since I last surfed. Even when the pollution report says that the ocean is open after a rain, it is hard for me to wrap my mind around surfing in a zone right next to a closed portion of the beach. I've been in enough bodies of water to know that if any pollutants were present, they don't just neatly confine themselves to a specific area of the beach. Water is literally fluid. It moves with the currents and swells.
I'm not the only surfer who stays out of the water for that very same reason. To think that the community of IB has been living with that fear for almost a century now makes me crazy! If I can't surf I go for a run through our beautiful estuary, but I still can't stop thinking about how to clean the water. The fear of wondering if the water I'm supposed to be recreating in is actually clean is infuriating. There is always skepticism when we check the beach and bay report, and we ask ourselves questions like, "How long ago was the last test?" "What if there was a spill the night before that hasn't been reported yet?" "I checked, and it stinks. Why?" Fear and skepticism will ruin this awesome community.
I could have changed schools many times in my career. I didn't have to move to IB. I chose to come and stay in IB because this community is worth it. My kids are IB kids, the same that I teach everyday at Mar Vista. They deserve clean water. They deserve clean beaches. This city has a unique playground that no other community has. It is natural, beautiful, and awe-inspiring. Imagine if that fear and skepticism were lifted. Just imagine.
*#mycleanh2ostory is written by local activists who are fighting for clean water.