For Spanish Readers: Haz click aquí para la versión en Español de esta publicación
If you live in South San Diego County and love going to the beach, you've most likely heard of the large amount of beach closures happening this summer. But the question is, why is this happening now, seemingly way more than in previous summers?
This year, San Diego County Department of Environmental Health Quality has implemented a newly approved water testing technology using ddPCR, a high-tech genetic analysis tool, to identify fecal indicator bacteria (FIB). In addition to getting faster results, these tests are revealing higher levels of FIB in South County beaches. As a result, more beaches are closing and leaving beachgoers wondering if it's actually safe to swim in their favorite beaches.
This blog will give you information on why we care about testing, how to find testing results for our San Diego beaches, and what these results mean.
What are the water quality results at my local beach?
For decades there have been known sewage discharge points south of the border, making South County beaches vulnerable to sewage spills and pollution. Due to their proximity to the Tijuana River mouth, beaches like Imperial Beach and Silver Strand are continually in a state of alert for high FIB concentrations. The roll-out of the new, rapid, DNA-based testing methods and public health thresholds have caused some confusion over the different advisory levels and how health authorities are making decisions to open and close beaches. You can view the different advisory levels at actively tested beaches in San Diego at sdbeachinfo.com. There are four main advisory tiers: open, advisory, warning, and closures.
Check out this video for easy to follow instructions on how to find your local beach water quality and the latest test results.
If a beach is open, that means tests show low bacteria levels in the water and there is a very low risk of having health complications if you swim at this beach.
If there is a beach advisory, bacteria levels in the water have exceeded the state threshold or recommendations on safe water quality. While advisories are not beach closures, they are used to warn us of contamination and should make us think twice about going in the water. We recommend taking beach advisories seriously, especially if you have young children or any preexisting health conditions that make you more susceptible to infections.
Warnings are a new code that San Diego County will be testing through the end of summer 2022. This is basically a beach advisory, with the addition of a south swell. South swells push water north, and because of the known and unknown source points of untreated and under-treated sewage water coming from Tijuana, Mexico, it is likely there is sewage at this beach. This will be especially common in south county beaches like Imperial Beach and sometimes even up to Coronado. Although the warning color on this website is orange, physical warning signs on the beach are actually a light blue color.
Finally, beach closures are issued when there is a known sewage, chemical or other contaminant spill in the area. Closures can even be issued before water quality testing if there's been a sewage spill report or eyewitness reports when sewage spills can be seen or smelled at the beach. If the beach is closed, there's a pretty big chance you can get sick from swimming in that water.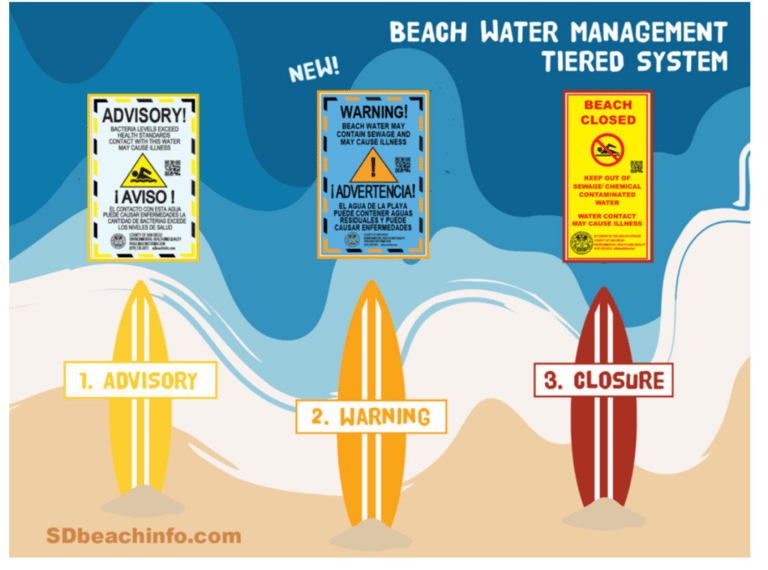 Although the sdbeachinfo.com website is incredibly helpful for knowing what level of advisory your favorite beach has that day, it doesn't tell us what the specific concentrations of bacteria are. For example, let's say your favorite beach just got an advisory, and you'd like to know just how much bacteria was actually found and how far over the state threshold it is – this way you can make a more informed decision on whether or not you should go in the water. You can access this information by clicking on the state water resource control website. However, it would be most helpful for the enterococcus concentrations for a particular beach to be displayed directly on the map just by clicking on a beach icon!