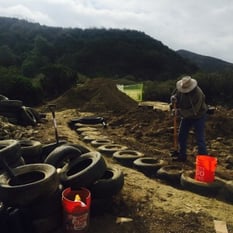 On January 23, 2016, the Surfrider Foundation San Diego County Chapter's No Border Sewage (No BS) Program paired up with 4Walls International to help build a Gathering Space at the entrance to Border Field State Park. When completed, the Gathering Space will include amphitheater-style seating and a welcoming entryway to the trails leading through the Park.
The Gathering Space is being made out of found objects like river rocks and dirt that came directly from the sediment basins at the park, as well as recycled tires - many of which were plucked right out of the parks canyons.
Border Field State Park is located within the Tijuana River National Estuarine Research Reserve (TRNERR), right on the California-Mexico border at Tijuana. It's beautiful sand dunes and salt marshes provide a diverse ecosystem critical to the area's many threatened and endangered species.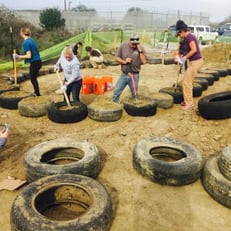 The park is overwhelmed each year as trash, sewage, sediment and sometimes chemical waste come over the border and down the Tijuana River, eventually flowing into the Pacific Ocean causing beach closures as far north as the Silver Strand.
The No BS Program is part of the Tijuana River Action Network (TRAN) - a group of like-minded non-profits, local businesses, and government agencies that work together to address these issues in the Tijuana River Valley. Together and individually the members of TRAN host not only build days like this one, but cleanups, awareness events, and tours as well.
However, the issues plaguing the area will not be solved by a handful of cleanups each year - so the No BS program's focus this year is on policy work that could begin to alleviate the problem from it's source.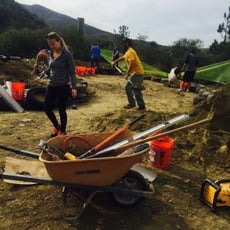 Interested in helping? The No BS committee is looking for individuals who would like to take on a specific role this year. From policy work to community liaisons and event planners - your help is needed! Join us the second Monday of each month at the Surfrider office (9883 Pacific Heights Blvd, Suite San Diego, CA 92121) to see where your skills and abilities be used to help keep our local oceans, waves and beaches free of trash, sewage and sediment.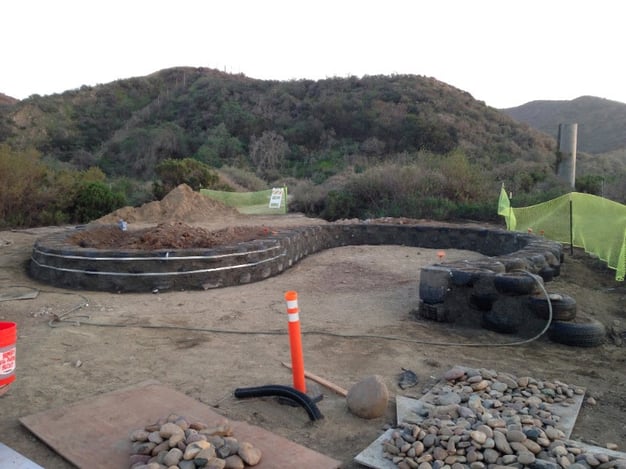 Check out more photos of Build Days by clicking here!