Learn How to Create an Ocean Friendly, Watershed Wise and Sustainable Garden! And more!
Sustainable Landscapes Design Seminars
Do you want to, or have you, stopped watering your lawn but don't know what to do next? Would you like to replace it with an attractive, climate appropriate garden that conserves water, requires less maintenance and attracts local birds, bees and butterflies?
This three hour Design Seminar will teach you the basics of plant selection, design aesthetics and plant water needs, followed by practice at designing YOUR landscape.
The Seminar builds on the lessons taught in the popular California Friendly Landscape Training (CFLT) class. It is recommended that you have attended a CFLT but it is not required. Classes start November 7th, 2015. Other dates are being scheduled for 2016. Sign up here.
Hands On Workshops
Learn best by doing? Would you rather be outside in a local garden than in a classroom? At this three hour workshop you will learn how to remove turf without the use of harmful chemicals, build healthy living soil, capture water from the roof and other hard surfaces and 'slow it, spread it, sink it' into your landscape. First workshop is Nov 14th, 2015. More dates to be set. Sign up here.
Garden Gurus
All attendees will be eligible for a garden guru appointment. Garden Gurus are Landscape Professionals. Working from a checklist, the Garden Guru will spend 90 minutes supporting and guiding your creation of a Watershed Wise Landscape. Garden Guru appointments are Free for those attending a Design Seminar or Hands on Workshop! Only one appointment per household.
Garden Guru appointments will be available starting from November 1st, 2015. They will be distributed on a first come, first served basis. More information about Garden Gurus will be given at the seminar/workshop.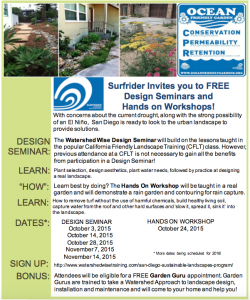 Year of Soils Workshop
Ocean Friendly Gardens will be presenting at the Resource Conservation District's 'Year of Soils' workshop October 22nd, 2015 6-8pm at Tiger!Tiger! at 3025 El Cajon Boulevard. Ocean Friendly Gardens will be one of a panel of three discussing soil and the products we use. There will be time for Q&A, general mingling, chatting, some light nibbles and of course, tasty beers.
Sunset Cliffs Native Garden
CNPS hopes to get a jump on El Niño with the first fall planting event at the Sunset Cliffs Native Garden the weekend of October 24 - 25. Saturday will be devoted to site preparation -- breaking up the compacted dirt, and mixing in the topsoil, spreading the mulch. Sunday will be the fun stuff -- planting and watering -- and how much is able to be achieved will be based on the success of the work on Saturday. The event goes from 9 a.m. to 5 p.m., but volunteers need only come by for a couple of hours. The garden is located west of the intersection of Adair St. and (1250) Sunset Cliffs Blvd.
Sign up at SunsetCliffsGarden.org and hit the "Participate" and "Volunteer" links. In the comment section just say when you'll be coming.