A single-use plastic pollution reduction ordinance on the horizon
The City of Oceanside hosted two public community workshops via ZOOM on October 5 & 6, 2020 to provide updates on their Zero Waste Plan (you can watch them HERE & HERE)
As part of the plan, City staff are drafting a single-use plastic policy, aka the Marine Debris Reduction Ordinance, which they will put before the City Council for a vote this December.
The main requirements of the proposed ordinance are a prohibition on EPS foam (i.e. styrofoam) takeout containers, a requirement that straws and utensils are provided only upon request, and a requirement that all food service ware is reusable, recyclable, or compostable. They also detailed which businesses the ordinance would apply to, along with a schedule for how it would be rolled out (which we explain below).
This ordinance is being drafted, in part, due to widespread support among Oceanside residents for the city to take concrete measures to reduce plastic pollution. Last year, we helped distribute a city-drafted plastic pollution survey at many of our Oceanside beach cleanups and events - 97% of our survey respondents agreed that "plastic pollution should be reduced."
Oceanside is doing a final public push for survey respondents by releasing an online version of the survey. Right now, the most important thing YOU can do is fill out the survey (takes 2 minutes) to let the City know that you support REAL ACTION TO REDUCE PLASTIC POLLUTION! You do not need to be an Oceanside resident to make your voice heard.
The Nuts & Bolts...
Should the ordinance pass, the current framework for implementation looks like this:
Phase I— July 1, 2021 to June 20, 2022

Voluntary compliance, during which time the city will conduct education for businesses and generators.
Includes creation of a purchasing cooperative to lower the price of plastic alternative takeout containers, if enough businesses express interest.
Phase II—July 1, 2022 to June 30, 2023

Polystyrene food service ware prohibited and all food service ware must be reusable, recyclable, or compostable
Food service ware must be reusable, recyclable, or compostable
Possible 6 month to 1 year waiver for businesses facings financial hardships
Phase III—July 1 2023 (final implementation)

Accessory food service ware (straws, stirrers, utensils, etc.) upon request only
July 1, 2024

City will reevaluate Marine Debris Reduction Ordinance and consider possibilities to expand scope for additional single-use and non-recyclable materials
Who will have to comply?
The image below is self-explanatory. Unlike the City of San Diego's 2019 plastic pollution ordinance, Oceanside's proposed ordinance does not include common items sold at grocery stores (i.e. eggs & meat sold in foam containers), and does not prohibit the sale of styrofoam coolers and beach toys. At least, not yet.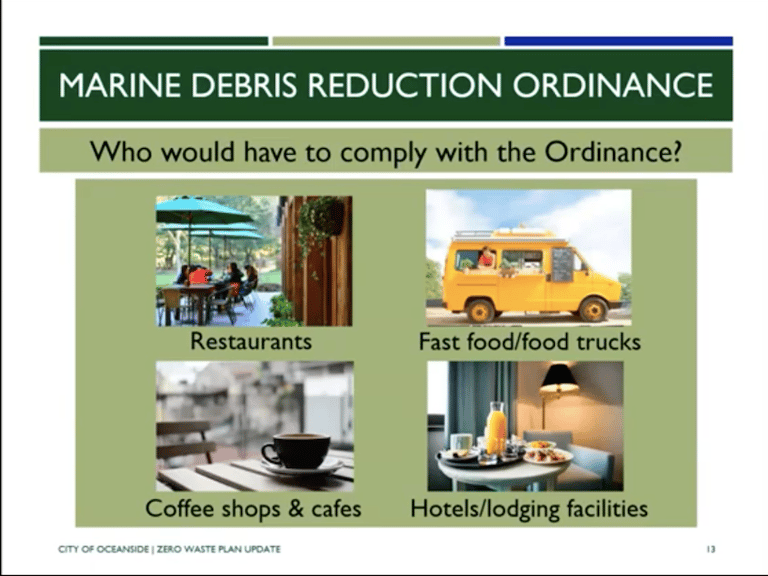 A Final Word
Surfrider absolutely supports and applauds Oceanside taking this step towards reducing plastic pollution. However, we will likely advocate for some modifications once the draft ordinance is released to the public.
For example, we believe that "accessory foodware upon request only" - currently in Phase III - should be enacted immediately as part of Phase I. Unlike shifting away from foam and towards other materials, a "request only" requirement costs nothing and requires very little adjustment in a business' daily protocols. In fact, restaurants will likely save money by unnecessarily wasting less straws, stirrers, and utensils.
Stay tuned for more updates, and in the meantime, please fill out their survey!