We welcomed six restaurants to the Ocean Friendly Restaurant family in October and November, bringing our total number of San Diego County OFR's to 127! It's our distinct pleasure to introduce you to these newly registered restaurants, all of whom have taken measurable efforts to reduce their reliance on harmful single-use plastics and minimize their environmental impact. We encourage everyone to choose "ocean friendly" when they dine out, and be sure to let these restaurants know that you appreciate their efforts to protect our ocean, waves and beaches!
Serea Coastal Cuisine
If you attended this year's Paddle for Clean Water, then you probably met Chef JoJo Ruiz & the Serea crew while enjoying their delicious ceviche and crab cakes!
Serea, which recently opened at the Hotel Del Coronado, specializes in local, sustainably caught seafood. Their restaurant family, which includes Lionfish in the Gaslamp, has supported our chapter's efforts for several years - most notably our Clean Water efforts in the South Bay, as Chef JoJo is a South Bay native himself!
1500 Orange Avenue
Coronado, CA 92118
(619) 435-6611
www.sereasandiego.com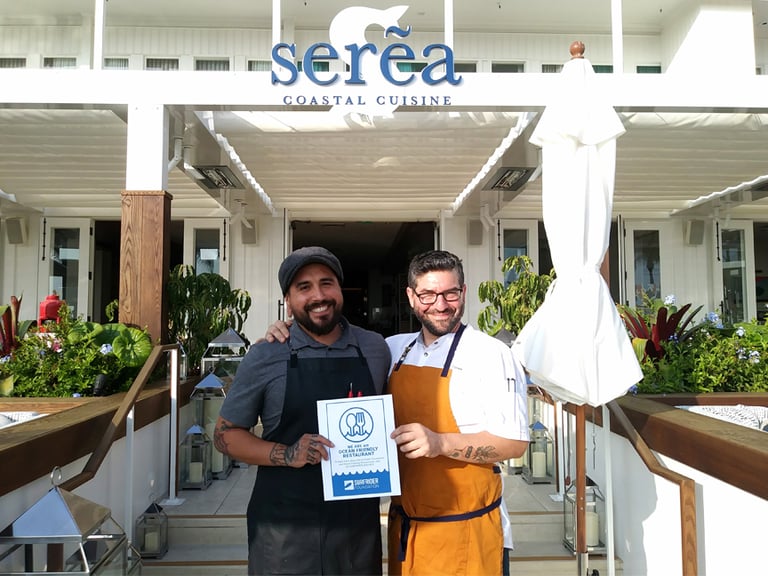 Toma Sol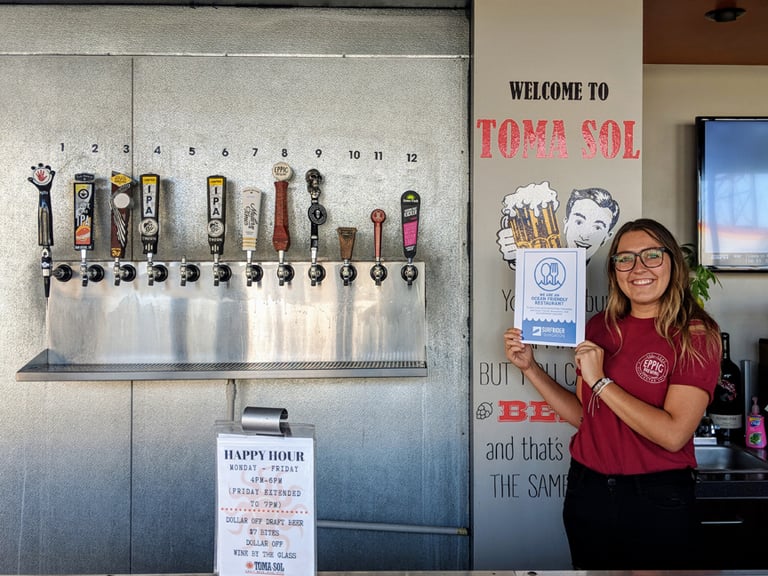 If you're in the Mission Hills area, then you'll definitely want to check out Toma Sol tavern. They feature a rotating tap of craft beers, a full food menu, weekly trivia nights, live sports broadcasts, and everything else you'd expect from a neighborhood tavern... but with an Ocean Friendly twist!
301 W Washington St
San Diego, CA 92103
(619) 291-1159
www.tomasoltavern.com
SD Taproom
SD Taproom... need we say more? In the heart of PB, they offer just about every craft beer imaginable plus an "elevated menu" of bar favorites from pizza to burger and tacos. Plus, they're dog-friendly and have a big ole' patio to enjoy our perfect weather!
1269 Garnet Avenue
San Diego, CA 92109
(858) 274-1010
www.sdtaproom.com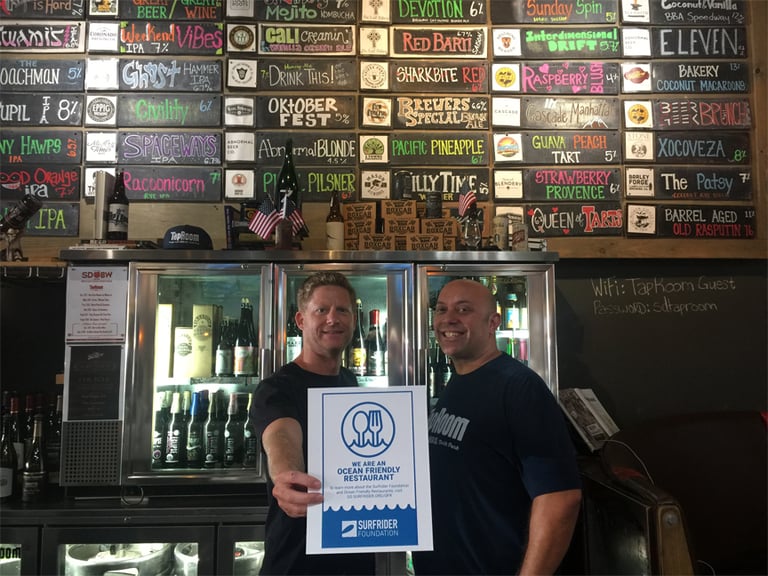 Prado "At the Airport"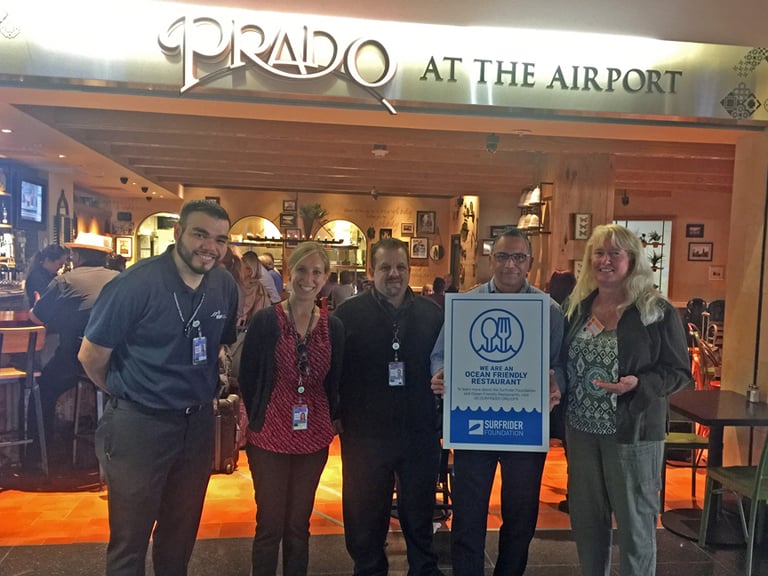 It's official - we've registered our second airport OFR!
"SSP America is honored to support the champions of the surf and sand, The Surfrider Foundation, and its network of volunteers who are the boots on the ground for those who care about our coastal communities...that's why we're so proud to be a Surfrider OFR and have diligently worked to ensure we adhere to the criteria outlined in the Surfrider program. We look forward to doing all we can to support the organization and its mission."
Ed Hartless, Director of Operations for SSP America at SAN
SD Airport, Terminal 2
San Diego, CA 92101
(619) 297-0095
The Prado @ SAN Airport
Waypoint Public
Located in the heart of North Park, Waypoint has a strong local following and is a favorite among young parents thanks to their large "play area" for kiddos.
Comments from the restaurant:
"We need and want to protect our oceans and minimize our impact on the environment. Becoming an Ocean Friendly Restaurant and committing to the recommended practices is a small step we can take to ensure we are actively participating in this effort."
3794 30th St.
San Diego, CA 92104
(619) 255-8778
www.waypointpublic.com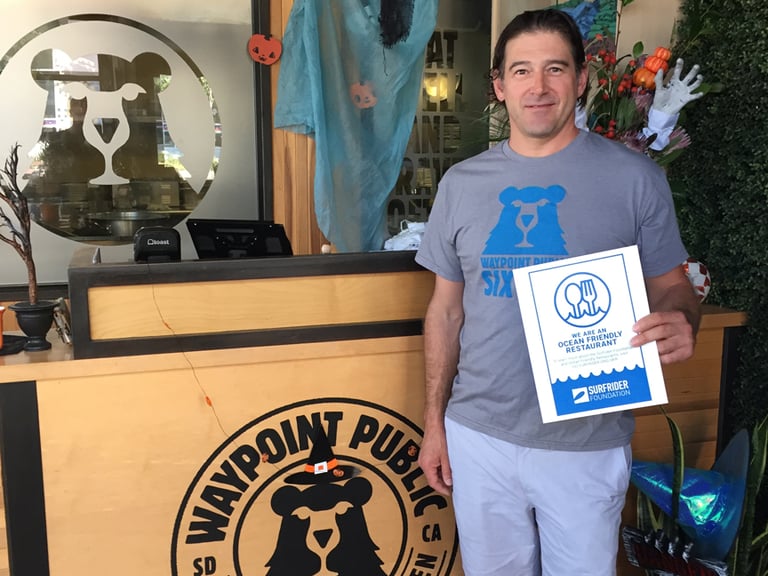 Red Marlin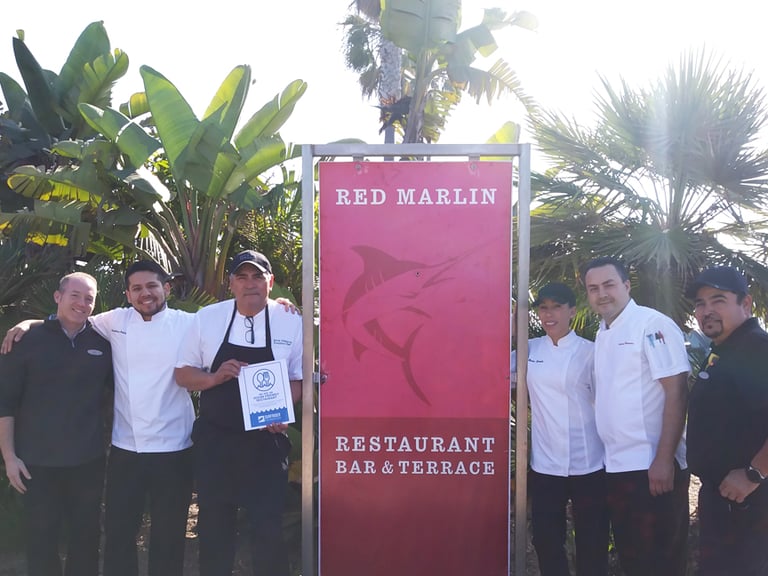 Another hotel OFR, this one at the Hyatt on Mission Bay!
Comments from the restaurant:
"Our global food and beverage philosophy at Hyatt is:
Food. Thoughtfully Sourced. Carefully Served. We are on a journey to deliver food that is good for your health, good for the community and good for the planet. Our offerings are locally sourced, seasonally fresh and are treated with integrity from preparation to the plate."
1441 Quivira Road
San Diego, CA 92109
(619) 221-4868
Red Marlin @ the Hyatt
To learn more about what makes a restaurant "ocean friendly," check out our OFR page. Thanks for tuning in!