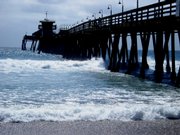 SAN DIEGO — Several environmental groups say California's budget crisis has crippled efforts to solve ocean pollution at beaches near the Mexican border. In its 2009 Beach Report Card, Heal the Bay says state cutbacks in beach water monitoring endangers public health. KPBS Environment Reporter Ed Joyce has the latest on the health of the county's beaches.
Heal the Bay says anyone playing in the ocean at most San Diego County beaches last summer enjoyed near-perfect water quality.
The Santa Monica-based group graded 93 beaches in the county as part of its annual statewide study. The grades are based on levels of bacterial pollution.
The better the grade, the lower the risk of illness to ocean users.
Heal the Bay water quality director Kirsten James says 97 percent of San Diego beaches received an A.
"San Diego beach water quality was excellent during the dry weather," says James.
But she says when it rains that brings pollution to local beaches.
"Several locations at Oceanside that received low grades in wet weather," James says. "We had some south San Diego beaches that received F's in wet weather. The Tijuana River Mouth, the Border Field State Park at Monument Road, Imperial Beach at Carnation Street."
James says in Ocean Beach, the jetty and Dog Beach were also given F's.
She says 29 San Diego County beaches were closed last year because of sewage spills.
James is now worried that beach water quality monitoring could be further hurt by the state's budget crisis.
Last September Governor Arnold Schwarzenegger cut $1 million in beach water quality testing funds.
"And the County of San Diego Environmental Heatlh Department cut back completely its program in September of 2008," James says. "So in essence, a lot of these beaches are a swim at your own risk because there's just simply not the data to get a grade out there and educate the public."
While the County Board of Supervisors provided over $100,000 to revive the county's ocean monitoring program that money only paid for sampling a third of the county's beaches over the winter.
This summer the county plans to monitor beach water quality at a few of the most popular beaches.
Bruce Reznik with San Diego Coastkeeper says cutting state funding for ocean water quality testing is not just a public health issue, it also hurts the state's economy.
"Coastal tourism is estimated at somewhere over $40 billion statewide," Reznik says. "In San Diego it's $4 to-$6 billion, it supports well over 100,000 jobs in the tourism industry. So if we're cutting off our monitoring and we're taking a step backward in protecting our beaches and not making the public aware of the health of our waterways, ultimately it's going to impact our economy here in the San Diego region."
The budget crunch also has compromised efforts to tackle chronic pollution at beaches near the Mexican border. A state-funded source-tracking study in the Tijuana Estuary was shut down due to funding cuts last year. The study is expected to resume next year.
Sewage-contaminated plumes from the Tijuana River caused 14 beach closures from Coronado to the Mexican border over the last year.
Serge Dedina is the executive director with Imperial Beach-based Wildcoast.
He says progress is being made to reduce the border sewage.
"They're building a secondary treatment plant," Dedina says. "The regional water quality control board has sort of an advisory group or task force, they're working to solve some of the trash and sediment problems. And more importantly we have to proactively work with Mexico and the state of Baja California to put more infrastructure in Tijuana."
Dedina says he expects those and other efforts will lead to cleaner waters at Imperial Beach.
That would be excellent news to Hector Leos of Chula Vista who was surfing near the Imperial Beach pier.
Leos has been surfing for more than 20 years in the area.
"I mean there's a lot of pesticides out there, chemicals that can cause danger, mercury, lead, all that. But when you're addicted to the beach what can you do?"
Health officials say Leos and other beach users should stay out of the water for three days after it rains.
Officials say bacterial levels usually exceed state health standards after rains carry pollution to the ocean.
The Heal the Bay report says while beach communities have made strides to reduce dry weather pollution, more work is needed to limit the harmful effects of storm water runoff on coastal water quality.
Ed Joyce, KPBS News.