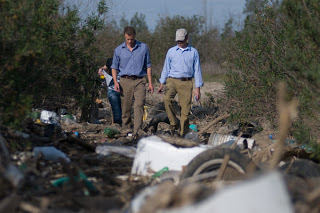 The Surfrider Foundation's San Diego chapter and Wildcoast, the Imperial Beach-based environmental group, are teaming up on a border litter cleanup June 6 in the pollution-plagued Tijuana River Valley.
Border pollution issues have served as a wedge between the two environmental groups in the past -- particularly between Serge Dedina, Wildcoast's executive director, and Marco Gonzalez, an attorney who represents Surfrider.
The two disagreed about Bajagua, the private company that promised to reduce border-area sewage pollution. (The project has since been discarded by the federal government.) From my 2006 story on the division between Gonzalez and Dedina:
[N]either minces words when describing their rift -- or each other.

Gonzalez on Dedina: "Serge, he may surf, but his politics get in the way of meaningful representation of constituents...This project is big enough, and their opposition offensive enough, that it has seriously eroded our ability to do work together."

Dedina on Gonzalez: "Bajagua has essentially co-opted a law firm. Anytime we bring this issue up, I literally have Marco screaming at me. This is something I'm used to dealing with in Mexico. It's not something you see a lot here."
So with the two groups joining on border litter issues, has the hatchet between the two men been buried? Not so much.
Dedina said the two organizations themselves hadn't had any problems and pointed to cooperation on their fight against the Trestles toll road as an example.
"Definitely I think what this represents is a new coalition to work on resolving water quality issues on the border," Dedina said. "We're amazingly stoked that Surfrider San Diego is a partner in that. It's all good, all positive, all moving forward."
Gonzalez said the event serves as "the next phase of Surfrider's involvement in border pollution issues." He'll be out of town and isn't going.
"I don't think it's appropriate to characterize my disagreements with Serge as Surfrider's disagreements with Wildcoast," he said. "I continue to have disagreements with Serge. But those aren't Surfrider's problems. Those are Serge's problems."
The cleanup starts Saturday at 9 a.m. at the Tijuana River regional park.