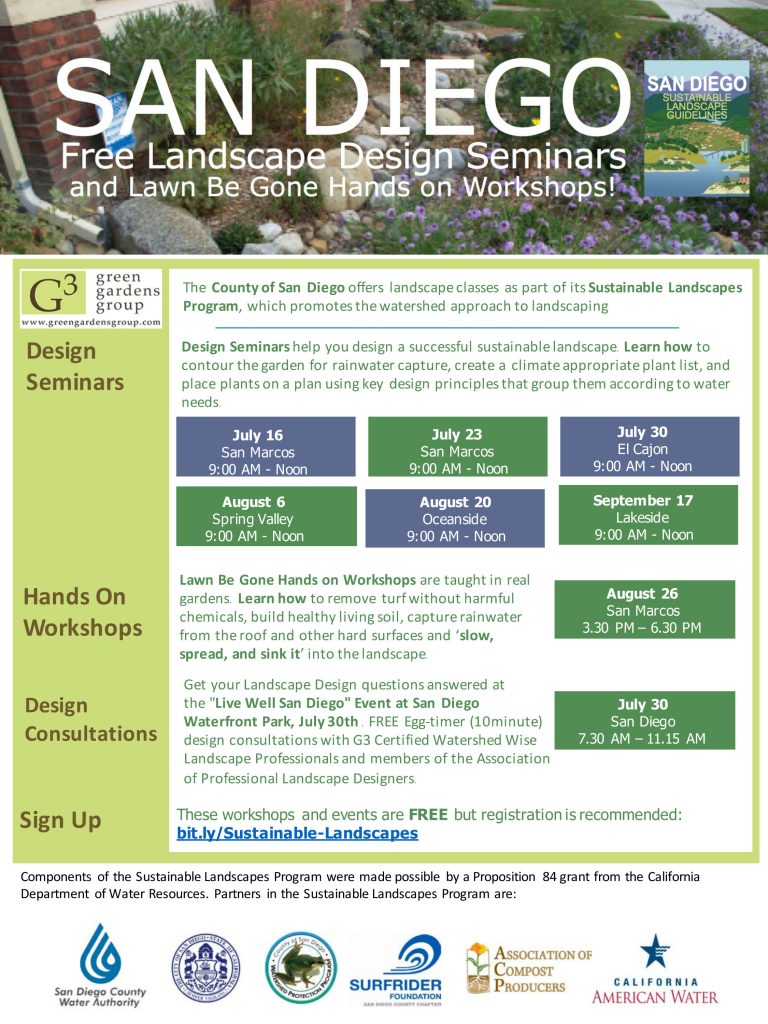 07.27.16
Surfrider to Hold Design Seminar for Sustainable Landscaping at The Water Conservation Garden, El Cajon
By SFSDAdministrator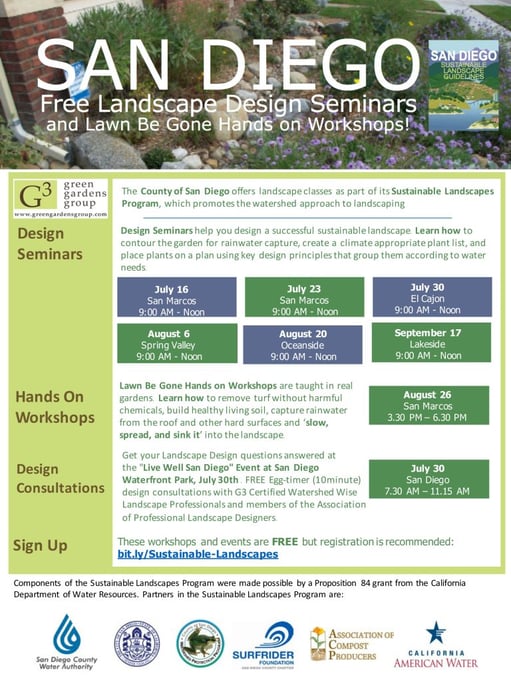 WHEN: Saturday July 30th from 9:00am-12:00pm
WHERE: The Water Conservation Garden12122 Cuyamaca College Drive West, El Cajon, CA 92019
WHAT: As part of Surfrider Foundation's Ocean Friendly Gardens program, we are hosting sustainable landscape design classes, hands-on workshops, and on-site consultations in partnership with professionals at G3/Green Gardens Group. They are now available throughout San Diego County. Surfrider is encouraging people to help clean the surf by removing their turf!
Despite recent rainfall, San Diego County still faces the need to save water, and urban run-off continues to be the primary source of ocean pollution. But landscapes can act like mini-watersheds to soak up rainwater, reduce polluted rainwater run-off, and prevent water run-off on dry days. A watershed approach is taught in activities offered by Surfrider and G3, which run through September 31st. A rebate of $1.75/sq. ft. of lawn and inefficient irrigation turned into a watershed approach-based landscape is planned to begin in mid-August. Surfrider's efforts are part of the Sustainable Landscape Program, which includes the San Diego County Water Authority, City of San Diego, County of San Diego, California American Water and Association of Compost Producers, with funding from state Proposition 84. Sign up here!
VISUALS: Seminar participants work in small teams to design a landscape following the watershed approach. At the Hands-On Workshop, participants learn by doing: remove part of lawn without chemicals, shape the area to capture rainwater, and further build soil through sheet mulching. See more here: https://www.youtube.com/watch?v=_Q4DGwt9iB0&feature=youtu.be
WHY: A Watershed Approach to landscaping follows a simple set of guidelines: using rainwater as the first source of irrigation, building healthy living soil, selecting climate-appropriate plants and, when necessary, using the most efficient form of supplemental irrigation such as drip. Healthy, biologically-vibrant soil can filter pollution, hold onto water for plants to tap during dry months, and lock up carbon that plants capture during photosynthesis.
WHO: Everyone who wants to keep the San Diego coastline clean and healthy for all to enjoy, create food and habitat for butterflies and birds and bees, and avoid our cities paying costly fines for violating water quality laws.
MORE: Sign up here!