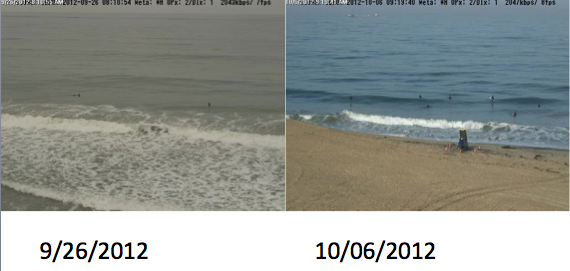 02.14.13
Surfrider's Stance on the impact of the sand replenishment project in Imperial Beach
By SFSDAdministrator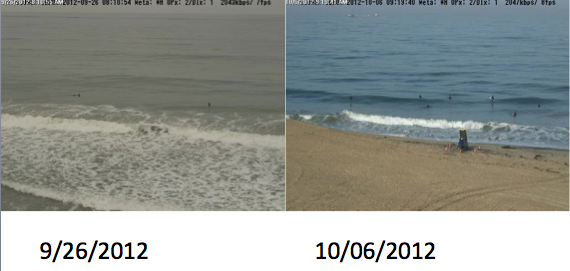 As a resident, surfer, and Surfrider member you are probably hearing a lot about the impacts of SANDAG's RBSP II beach nourishment in Imperial Beach. There is a lot of information out there, so we wanted to give you our take on the situation.
Surfrider reviewed the project's EIR, our comment letter and SANDAG's response to our comments can be found here. We did not oppose the project but instead provided feedback on the amount of sand that was going to be placed in certain areas and advocated that monitoring of the impacts to surfing be a project requirement. The Coastal Commission agreed with us on the surf monitoring requirement, and charged us to take that on, resulting in our Surf Monitoring Study (white paper can be found here). Since beach nourishment is going to be part of our future, due to the fact that most of the natural supplies of sand have been cut off, we are advocating that project proponents model and monitor impacts to surfing. Hopefully with each iteration, the responsible agencies will learn from and improve projects, thus reducing the negative impacts. It is our hope, with our Surf Monitoring study that either positive or negative impacts can be quantified, mitigated if necessary, and reduced or enhanced with future projects. This type of quantification and data archive has not been available in the past, forcing agencies to rely on anecdotal information. We hope that monitoring, like our Surf Monitoring Study, will be required of all large-scale beach nourishment projects in the future.
While we are still in the very early stages of RBSP II, and some of the current impacts are still within the period that is considered "temporary impacts"; we alongside IB locals and our environmental colleague, Wildcoast, are concerned about the following:
• The sand has migrated more than 500 yards southward from the southern project terminus (near the southern end of Seacoast Drive). It is critical for the City of Imperial Beach and SANDAG to work with the management team of the Tijuana River National Estuarine Research Reserve, Tijuana Slough National Wildlife Refuge and the Tijuana River Mouth Marine Protected Area to prevent project sand from obstructing the Tijuana River Mouth. Project sand has currently migrated approximately to within 100 yards of the river mouth. Any obstruction of the estuary entrance would have a significant adverse impact to federal and state protected coastal and marine ecosystems and endangered and threatened wildlife.
• The project has reduced approximately 90% the total area used for surfing in Imperial Beach as well as the total number of surfers who use the beach for surfing. Additionally wave quality has been significantly reduced.
• The current steep sand berm along the beach that was created as a result of the project, has made recreational swimming significantly more dangerous (especially for small children) and made the task of monitoring public safety by City of Imperial Beach Lifeguards more difficult.
Some possible explanations for the different impacts experienced in Imperial Beach following RBSP II verses RBSP I are:
The sand was placed further south this time.
Sand placement took place later in the year with RBSP II, and the currents and wave activity are different in the Spring verses the Fall.
There was about four times as much sand placed in IB over a larger area for RBSPII as opposed to RBSP I.
The beach profile may have been built differently.
Surfrider recommends that the City of Imperial Beach carry out the following actions:
Expand the proposed MOU to include evaluations of impacts of the project to biological resources, recreational activities such as surfing, and public safety.
Hold a full public hearing on the SANDAG project so that stakeholders and resources agencies can discuss project impacts and possible solutions.
Reinstate and expand the City of Imperial Beach Tidelands Advisory Committee (TAC) to include a variety of local stakeholders and resource agency officials (e.g. Fish and Wildlife Service and California Department of Parks and Recreation) in order to evaluate future coastal zone projects and coastal management programs that impact local tidelands and state and federal protected areas.
The TAC should work to complete a Coastal Zone Management (CZM) Plan that would guide future coastal projects and programs as well as guide local efforts to deal with sea level rise.
Work with SANDAG to acknowledge that the increased sand volume has caused at least temporary unexpected consequences.
Instruct SANDAG to study the differences in beach profile construction between RBSP I and RBSP II and how the unintended consequences can be rectified and prevented in future projects.
If you are interested in engaging on this issue, please join us the Feb 20th IB City Council meeting, which starts at 6pm and is located at 825 Imperial Beach Blvd, 91932. We will be presenting the data we have collected thus far from our IB camera as part of our Surf Monitoring Study.
To understand the chapter's guiding principles on these issues, please see our Beach Preservation policy. This item will continue to be discussed at future Beach Preservation meetings, please join us if you are interested!