By Joshua Emerson Smith for UT San Diego. April 27, 2017
Beaches in the county's South Bay have long suffered from dirty swimming conditions. From the coveted surfing spot at the Tijuana Slough to the mellow beaches along Coronado's Silver Strand, sewage from south of the U.S.-Mexico border regularly pollutes these shorelines.
Now, a San Diego Union-Tribune analysis of beach-closure data from the past decade shows just how remarkable a toll the pollution has had on these coastal communities, especially when compared with the rest of the region.
Imperial Beach, which stretches past the Tijuana Slough National Wildlife Refuge to the Mexican border, had portions of its shoreline off-limits to swimmers for more than a third of each year on average, according to county records. The seaside community had a total of nearly 1,600 official beach-closure days in the preceding decade.
That's eye-popping when compared to places such as La Jolla, Del Mar and Encinitas, with each of those cities having fewer than a dozen days when its beaches were closed during the entire decade
In fact, more than 80 percent of all the beach-closure days in the county since 2006 have happened between Coronado and the Mexican border, data from the San Diego County Department of Environmental Health shows.
South Bay residents said this fact of life has created economic challenges as well health and social harm.
"We're a working-class beach community," said Imperial Beach Mayor Serge Dedina. "That's where business gets done. That's where friendships happen. That's where families hang out. That whole fabric of our community is eviscerated every time one of these beach closure events happen."
San Diegans are advised to avoid beach waves for 72 hours after it rains anywhere in San Diego County due to contamination from runoff. Even the most pristine beaches have pollution advisories posted from time to time when bacteria levels are higher than normal or dredging occurs near the shore.
However, swimming at a beach in the South Bay after it rains or when there's a sewage spill is a significantly more serious health hazard, according to water-quality officials.
"You're very likely to get any one of the gastrointestinal, ear and sinus infections, but you can also be exposed to pathogens … that can make you very sick and kill you," said Dave Gibson, executive officer of the San Diego County Regional Water Quality Control Board.
"I would say it's an order of magnitude greater risk in Imperial Beach than in La Jolla following a storm event," he added.
In addition to pathogens found in sewage — including bacteria such as E. coli, vibrio and salmonella — there are several viruses and intestinal parasites that can cause everything from diarrhea to meningitis to respiratory infections.
San Diego Bay and Coronado, especially its Sliver Stand area, aren't inundated with such pollution as frequently as in Imperial Beach, but their waters are still regularly fouled by sewage flows from Tijuana.
And if anyone in Coronado had forgotten about the situation in recent years, this past winter was a rude reminder.
After prolonged drought in the region, rains flooded Tijuana from December through February, causing massive amounts of sewage to flow into the Tijuana River, head north across the border and flush into the Pacific Ocean, fouling beaches all the way to Hotel del Coronado because of northward ocean currents.
That caused a lot of concern for residents and business owners in the seaside community, which promotes itself as an idyllic and high-end destination for travelers.
"The quality of the water at the beach is huge for us from a perspective of the tourism," said Sue Gillingham, executive director of the Coronado Chamber of Commerce. "With this last spill, I was very concerned about the coverage nationally, perhaps internationally."
A recently concluded investigation by the Mexican and U.S. sections of the International Boundary and Water Commission found that a sewer pipe south of the border broke in February, spilling about 28 million gallons of raw effluent directly into the Tijuana River.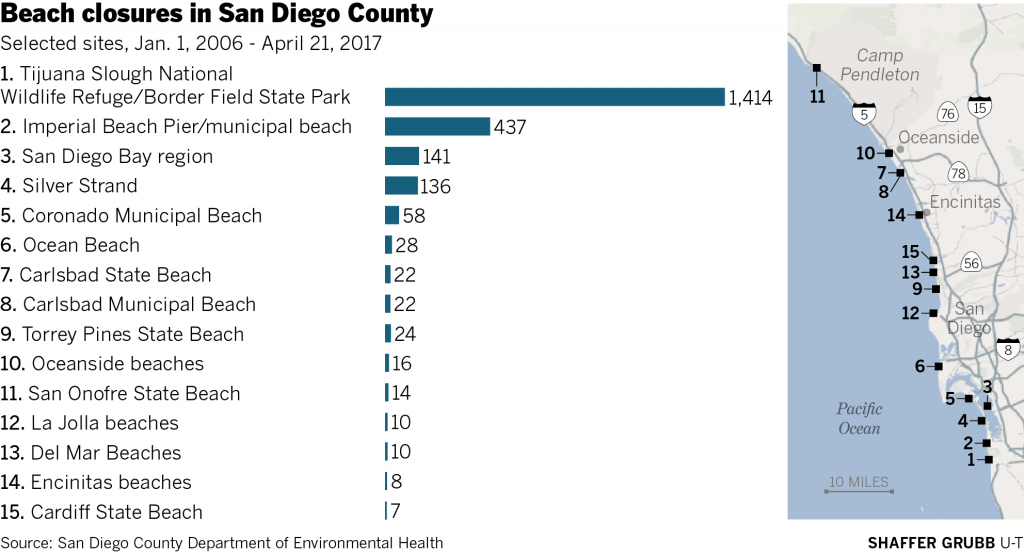 At the same time, the inquiry found that a whopping 256 million gallons of wastewater in Tijuana went unaccounted for, potentially also making its way into the ocean and up the coast.
During this period, Coronado was forced to close its beaches for a total of 22 days, according to county records. While that caught people's attention, the city has been forced to routinely restrict access to portions of its shoreline in winter months, often for multiple days at a time.
"There's a little secret and no one ever says anything, and it's all about Tijuana," said Sam Frederick, owner of Little Sam's Island and Beach Fun, which rents bicycles and beach equipment in Coronado. "But this time, they couldn't hide from it."
Vile odors and contaminated water were first reported this winter by residents in Imperial Beach. The city has closed its main municipal shoreline for a total of 58 days so far this year. Swimming and surfing off the Tijuana Sloughs and Border Field State Park have been prohibited since November.
The city's primary beach has been closed, including in summer months, for more than 400 days in the past decade — including 170 since 2015, according to county records.
All that has an impact on what's one of the least expensive oceanfront communities in Southern California. Real estate agents in the area said homebuyers regularly ask about the issue. And especially compared to Coronado to the north, the city has little in the way of a tourism industry.
Cleaning up the problem would significantly improve property values, said Gary Trieschman, owner of Pacific Reality and a lifelong resident of Imperial Beach.
"How much, I cannot say because the history of values in the city have always been considerably lower," he said. "That's changing, but in my opinion, we'll never reach the Coronado, Pacific Beach type of values."
Environmentalists and elected officials such as Dedina the Imperial Beach mayor, who also heads up the nonprofit group Wildcoast, have in recent years ramped up calls for investment in Tijuana's wastewater system to prevent pollution from reaching the South Bay.
"I think the old-school way in Imperial Beach was to deal with it quietly, and no one paid attention to us," Dedina said. "Our City Council made a decision to be as pushy and aggressive as possible to make sure our beach and our residents are protected. That's something we're going to continue."
In the past two decades, both Mexico and the United States have spent hundreds of millions of dollars to improve Tijuana's sewer system. The city has come a long way since the early 1990s, when millions of gallons of raw sewage flowed daily down the river and across the border into the ocean, according to regional regulators.
U.S. officials who work with Mexico on water-quality issues have said Mexican border towns, such as Tijuana and Ciudad Juárez, have some of the best wastewater collection and treatment facilities in the entire country due to binational investments.
Despite that funding, Tijuana's population continues to grow and overwhelm the city's aging sewer infrastructure. Breaking pipes and collectors have become an increasingly frequent problem.
At the same time, heavy rains routinely clog sewer lines, causing contaminated water to bubble up from manholes and drain into the Tijuana River.
To complicate things, officials said, a wastewater treatment plant along the coast in Punta Bandera has severely exceeded its capacity, spilling raw and partially treated effluent directly into the ocean. Currents sometimes carry this contamination north into the South Bay, even during the drier summer months when many beach-goers may not be expecting such pollution.
Locals have learned to vigilantly observe the water for signs of pollution, said Imperial Beach native Jeff Knox. "I've been a surfer all my life, and I'm very sensitive to the changes in odor from the ocean. You'll find a lot of surfers are that way," he said.
Still, pollution can come through unexpectedly and be hard to avoid, said the 67-year-old, whose son came down with Hepatitis A several years ago after surfing in the Tijuana Slough.
"Basically, within 24 hours you get sick," Knox said. "Some surfers seem to have more immunity than others, but generally we get sick in waves."
Officials in Baja California, in collaboration with the U.S. Environmental Protection Agency, have outlined a plan to fix the most urgent issues facing Tijuana's wastewater system.
The blueprint outlines a dozen projects from upgrades to the coastal treatment plant in Punta Bandera to replacing failing pipes to building new lines to areas not hooked up to the wastewater system. The endeavor is based on tens of millions in funding from both sides of the border, much of which has yet to be secured.