10.25.10
U.S. Army Corps of Engineers Trashes Mission Beach with Dredging Project. Surfrider Foundation San Diego Chapter calls for cleanup and more testing
By SFSDAdministrator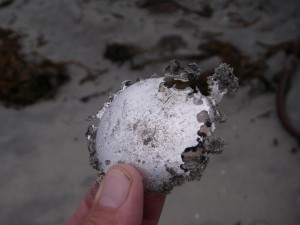 Here's a recent press release that we sent out regarding the current dredging project in the Mission Bay channel. It actually seems to be a decent source of sand but the sharp objects being left behind are unacceptable...
Often it's the tourists that trash Mission Beach, now an Army Corps of Engineers project is adding to it. Mission Beach residents and beach-goers have been shocked by debris left behind by the U.S. Army Corps of Engineers and its contractor, Manson Construction (headquartered in Seattle, WA). Right now a top concern is beach safety as many sharp objects are turning up.
The United States Army Corps of Engineers (ACOE) through their contractor are in the middle of a dredging project in Mission Bay to make it safer for boat traffic. The name of the approximate $5.3 million project is "Mission Bay Dredging and Beach Nourishment". As the name of the project implies, material that is dredged up from Mission Bay is being pumped up the beach through large pipes to various sections of Mission Beach.
Unfortunately, the material being dredged up has included an abundance of debris with apparently no attempt to clean it up. "Beaches should be barefoot friendly but right now we are advising everyone to watch their step on Mission Beach near the dredge and fill project. When I walked the tideline on Tuesday I found armfuls of debris, everything from outdated soda and beer cans to old fishing gear to degraded lobster traps wrapped with wire to leftover caution tape from the project. At first glance it did not look bad but once I got on the beach I was pretty shocked.", said Surfrider Foundation San Diego Chapter Coordinator Bill Hickman.
The trash (which includes beer cans, sharp metal objects, discarded fishing material and more) is being pumped out right at the water line, allowed to drain, and is then graded into the existing sand. There is no apparent effort by the ACOE or Manson Construction to screen their dredge material to make sure that they are only depositing "clean, beach quality sand", as their own construction sign indicates.
Multiple residents and beach-goers have been appalled to see old trash and debris being deposited on their local beaches and are concerned about its long term health, environmental, and financial impacts to the surrounding community and businesses.
"Surfrider is calling on the U.S. Army Corps of Engineers to stop trashing our beaches and to clean up the mess that they've already made. In addition they need to increase testing of the water and sand near the outfall to make sure it's up to health standards.", said Hickman.