Did you know that cigarette butts account for 1 of every 4 items found at our beach cleanups? It's not uncommon for Surfrider volunteers to collect 1000+ butts during a single 2-hour beach cleanup.
In addition to containing toxic chemicals and known carcinogens, butts contain plastic, which does not biodegrade in the marine environment. While our chapter has installed 200+ ashcans and distributed 1000's of pocket ashtrays, these efforts are insufficient to deal with the world's most littered item.
This goes far beyond a "litter issue." It's time to stop cigarette butt pollution at its source. This means holding Big Tobacco accountable for the billions of toxic, single-use plastic filters they're putting into our markets and environment every year.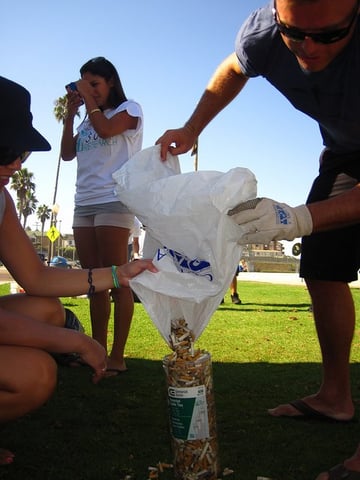 On Wednesday, April 24, the CA Senate Committee on Environmental Quality will vote on Senate Bill 424 (Jackson), which, if passed, would end the sale of filtered cigarettes in our state once and for all. We need to make sure SB-424 clears this committee vote so that it can see its day on the CA Senate floor.
Senator Pat Bates, whose district includes Oceanside, Carlsbad and Encinitas, serves as Vice Chair of this committee. Let's make sure she knows that we support an end to cigarette butt pollution in California!
Please take 5 minutes to contact her and urge her to support this bill (especially if you live in her district!). As this is time-sensitive, we recommend direct phone calls and Twitter!
Here is some suggested copy/talking points:
As a @SurfriderSD member, I ask @SenatorPatBates to vote AYE on #SB424 this Weds to cut down on #tobacco litter and #cigarette butts in #SanDiegoCounty - we need to get this litter under control! https://docs.wixstatic.com/ugd/ad724e_c6e1a686b7084e33aa7fdfef6cf0119c.pdf

Please @SenatorPatBates, help approve #SB424 on Weds to stop #cigarette butts from clogging our stormdrains and polluting our beaches in #SanDiegoCounty. It's time to make tobacco companies part of the solution! https://docs.wixstatic.com/ugd/ad724e_c6e1a686b7084e33aa7fdfef6cf0119c.pdf