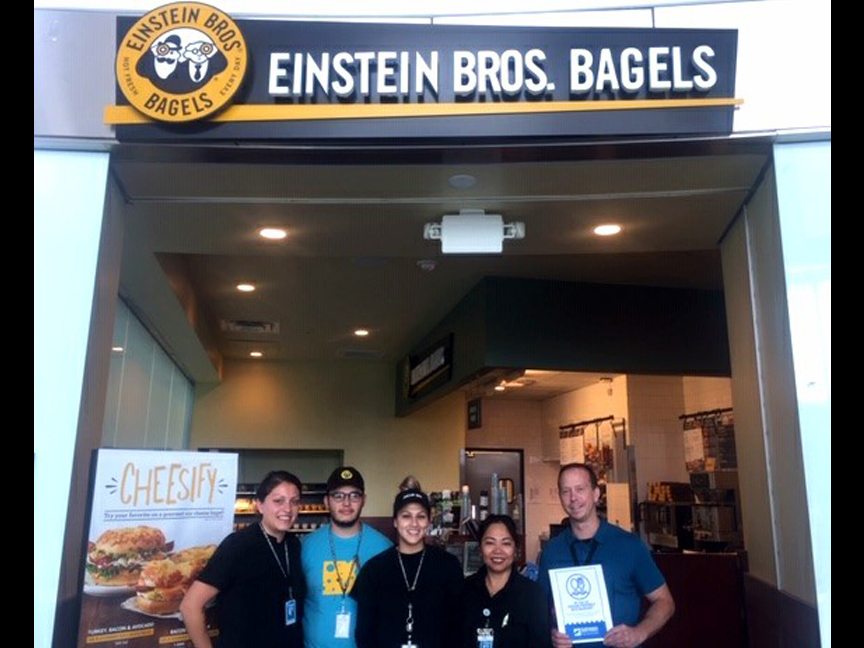 07.01.19
Einstein Bros. Bagels' Becomes First Airport Ocean Friendly Restaurant
By SFSDAdministrator
By Vicki Conlon, Ocean Friendly Restaurant Lead, Surfrider Foundation San Diego County
On behalf of Surfrider Foundation's Ocean Friendly Restaurant program, I would like to welcome Einstein Bros. Bagels to our family of Ocean Friendly Restaurants (OFR). Einstein Bros. Bagels is the FIRST airport OFR in the country! According to the Federal Aviation Administration, "2,789,971 passengers fly every day in and out of U.S airports." Imagine how much waste we could prevent from entering our waste stream if every airport eatery were an OFR.
What is an OFR you ask? It is a dining establishment that institutes self-regulated ocean friendly policies in order to reduce disposable plastic waste and minimize their impact on San Diego's ocean, beaches and landfills. Einstein Bros. Bagels implemented sustainable practices such as paper straws upon request, paper bags for to-go orders, and offering reusable tableware for onsite dining.

"I'm thrilled our Einstein Bros. Bagels location will be the first OFRs at San Diego International Airport," said Rod Tafoya, president of Mission Yogurt Inc. "We are happy to help make a difference by becoming a part of this extremely important program. We hope to leave a positive impact on our customers, perhaps also motivating them to pick up these important habits at home."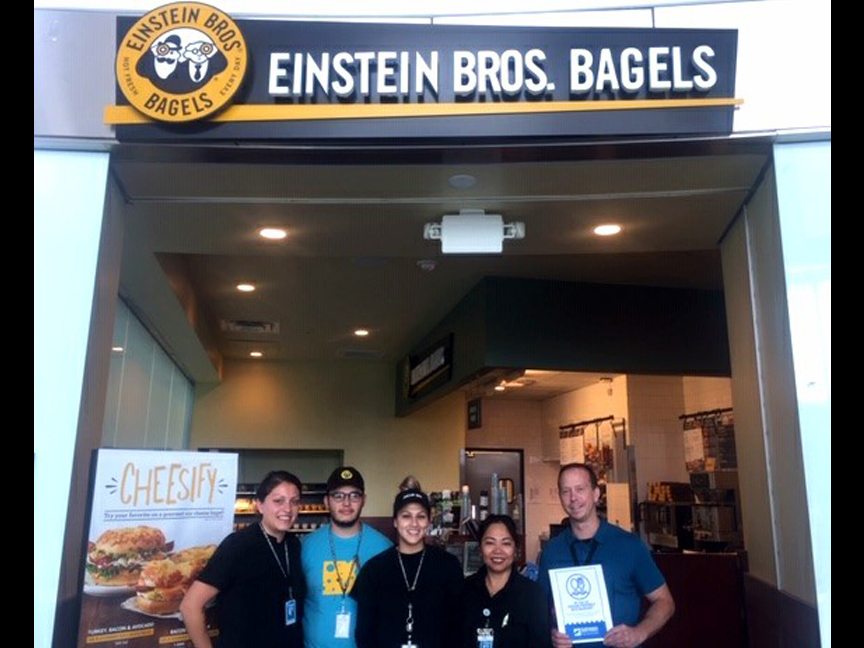 It has been a pleasure working with the San Diego Airport Authority's Planning and Environmental Affairs Department and airport restaurants. The SD Airport Authority is doing some great work at SAN. They launched their Green Concessions program back in July of 2017, which "rewards and recognizes airport concessionaires that help reduce water and energy use, minimize waste and educate consumers on what green business is all about."
Every food and beverage concession participates in a food composting program. They all do pre-consumer composting, and sit-down restaurants do post-consumer composting when they collect the plates from the passengers. Most of the concessions also participate in the food donation program, where they donate edible food to the USO or local food banks (San Diego Rescue Mission).
"Einstein Bros. Bagels was the first food and beverage concession to be certified. They were also the first food and beverage concession to switch to paper straws. Rob Ziemer has always been a great partner in implementing sustainable practices at SAN and isn't afraid to be the first to try something" , said Paula Morreale, San Diego Airport Authority's Planning and Environmental Affairs Department.

"We are excited to be involved with Surfrider's Ocean Friendly Restaurant program to help make a difference within our community and for our future generations" Rob Ziemer, General Manager of Mission Yogurt Inc

Please show your support of our FIRST airport OFR by dining at Einstein Bros. Bagels on your next trip. Einstein Bros. Bagels is located at Pre-Security, Terminal 2, 3665 N Harbor Dr, San Diego, CA

MUST HAVE ITEMS WHEN TRAVELING
Reusable drink container that can hold both cold and hot drinks
Reusable stuff sack shopping bag
Surfrider Reusable Bamboo Utensil kit (don't bring metal utensils, security will confiscate)
Reusable straw
AIRPORT TRIVIA: "The Terminal 2 Parking Plaza is Parksmart Gold certified which is similar to LEED and focuses on recognizing sustainable practices in parking structure, design, technology, programming, and management. SAN is the first airport in the U.S. to receive Parksmart Gold certification and the first airport in the world to receive an Envision Gold certification for an infrastructure project." (Paula Morreale)
The parking structure's roof collects rainwater to be used throughout the airport. Each aisle has a lighted display letting drivers know the exact number of open parking spots, so that motorists don't have to waste gas driving around to find parking.