New and Renewed Ocean Friendly Restaurants
View the most updated list of San Diego OFRs here
Upcoming Events:
Imperial Beach Clean up and Ocean Friendly Restaurants Blitz
Saturday, October 21⋅10:00am – 2:00pm
Location: End of Palm Ave. in Imperial Beach near the pier. Look for the blue Surfrider tent.
Description: Join us at the Imperial Beach Clean up between 10am-12pm (sign up HERE) followed by the Imperial Beach Ocean Friendly Restaurants (OFR) blitz starting at 12 pm (sign up HERE). An OFR Blitz is when volunteers visit neighborhood restaurants to talk with them about the Surfrider OFR program. New to OFR, no worries, you will be paired up with an experienced volunteer and will receive a brief training and OFR brochures before we head out to visit restaurants. To learn more about the OFR program visit our website HERE. An OFR Blitz is a great way to meet like minded folks and discover new restaurants. Meet at the blue Surfrider tents at the end of Palm Ave. by the Imperial Beach Pier for both events.
Rise Above Plastic Committee Meeting 10/17 6:00pm-7:30pm (Every 3rd Tuesday)
Here, volunteers focus on plastic pollution reduction advocacy, events, & other ideas to raise awareness about & reduce plastic pollution. In this meeting, you'll hear program updates from our volunteer leads and are encouraged to brainstorm your own plastic reduction idea — or raise your hand to help with an existing campaign mentioned in the meeting. Register here
Monthly Spotlight:
Thank you TS Restaurants Hawaii & California for continuing your leadership in sustainability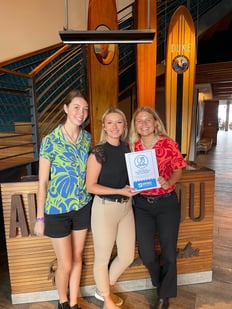 Duke's La Jolla Jake's Del Mar
Visit TS Restaurants Hawaii & California for list of locations throughout California and Hawaii
The TS Restaurant Group was launched by two friends Rob Thibaut and Sandy Saxten, who along with their families, valued and enjoyed playing in the great outdoors. It was this appreciation for the environment that led the TS restaurants to be industry leaders in sustainability. It was around 7 years ago that I had my first conversation with Josh Morgan, Vice President of Operations California, about Surfrider's Ocean Friendly Restaurant program. From the very beginning, Josh and the TS Restaurant Group were excited to be a part of the OFR family, helping to reduce their impact on the environment. They even asked if I would do a staff training at their Duke's La Jolla location, so that their employees would better understand the OFR program, and be able to communicate their sustainability efforts with their customers.
Besides meeting all the necessary criteria for OFR compliance that can be found HERE, TS restaurants serve wines via taps in order to reduce their wine bottle waste.
The TS Group is also socially sustainable. Founders, Rob and Sandy, believed "that supporting the communities where they lived, worked and played was an important part of their lives and instilled that value in the company."
In honor of the Aloha Spirit, the TS Group founded the Legacy of Aloha Foundation in 2019. "The Foundation is our way of acknowledging the responsibility of each person, each business, to support, uplift and care for one another. The Foundation hosts an annual scholarship for T S employees and partners with amazing local organizations with proven track records in our communities." As a customer of several of their locations, it's obvious, judging from the professionalism and friendliness of their employees, that they are treated like family and respected as contributing team members.
Vicki Conlon, Ocean Friendly Restaurant Lead, Surfrider Foundation,