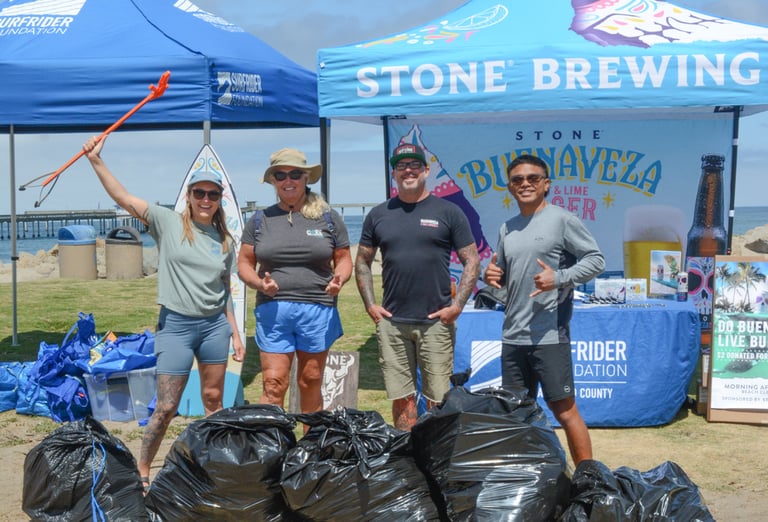 "For over 25 years, we at Stone Brewing have made thoughtful choices to minimize the impact our business has on the planet and environment. Our commitment to continual improvement and environmental responsibility is a value that drives everything we do."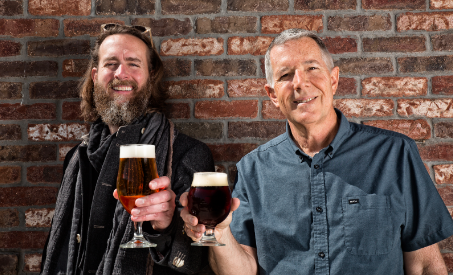 I recently had the pleasure of meeting Daven Pierce, Senior Director of Marketing for Stone Brewing, at Surfrider's "Morning After Mess" in Ocean Beach. Stone Brewing, Surfrider San Diego Chapter, and dedicated volunteers worked together to remove 143 pounds of trash from Ocean Beach and surrounding areas. Check out this article to learn more about the clean-up. Stone has been a longtime supporter of the San Diego Chapter of the Surfrider Foundation. Stone is continuing their historic partnership this year by having hosted our 20th Annual Art Gala and Auction, sponsoring 3 beach cleanups, and giving back to our chapter 2 dollars from every Buenavesa Salt & Lime Lager six pack sold in Southern California - up to $25,000. Thank You, Stone!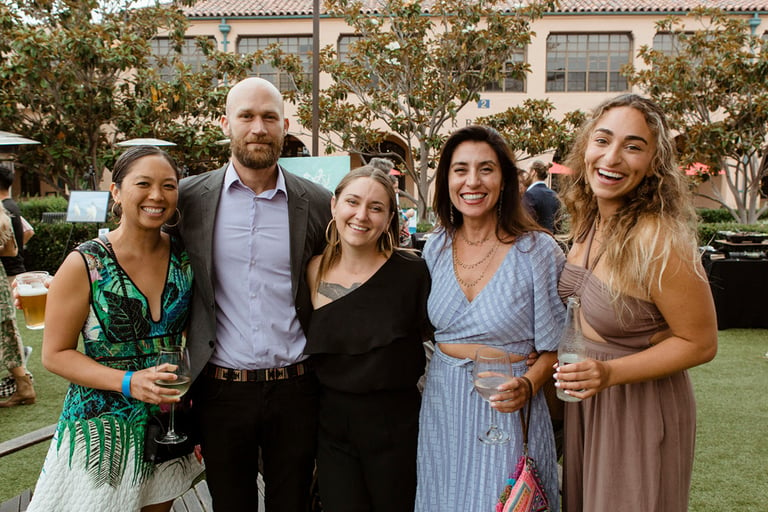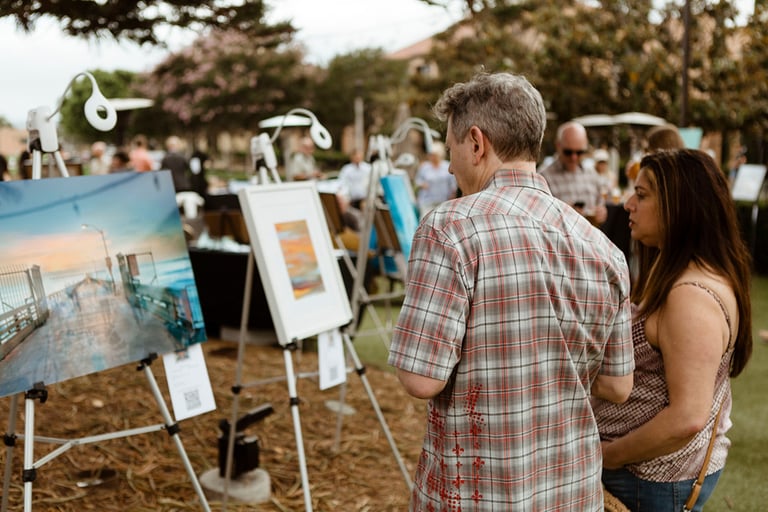 Proud to be an Ocean Friendly Restaurant
Both Stone Brewing locations: Escondido and Liberty Station, first joined the Surfrider Ocean Friendly Restaurants program(OFR) in 2019 and continue to be industry leaders in sustainability by exceeding the requirements to be an OFR.
Stone Brewing takes Energy Efficiency to the next level by using -photo voltaic panels and battery storage to reduce greenhouse gas emissions. "Every year, the Stone Escondido facility prevents over 1.5 million pounds of CO2 from entering the atmosphere." In addition, they participate in the Community Choice program, obtaining 100% of their energy from sustainable renewable sources. As a major beer distributor, Stone uses green diesel fuel in their delivery trucks. Green diesel burns cleaner with fewer emissions, which improves mileage in their trucks. Stone is continually reworking their delivery routes for 12,000+ accounts in order to reduce fuel consumption. This last year they were able to reduce their mileage and fuel by 10-15%.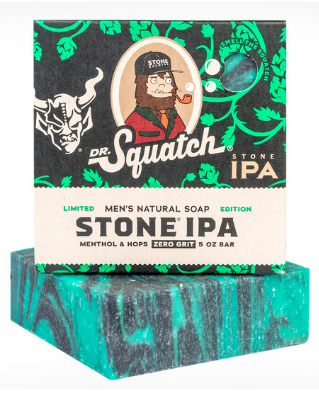 Wondering what soap and dog biscuits have to do with a brewery? "Approximately 140,000 lbs/day of spent grain from the brewing process is repurposed as mulch in our gardens and as animal feed by local farmers. Stone was among the first craft breweries to repurpose hops, spent grain, and yeast for cattle, goat, and chicken feed. It's also used to produce locally-made soaps and dog biscuits!"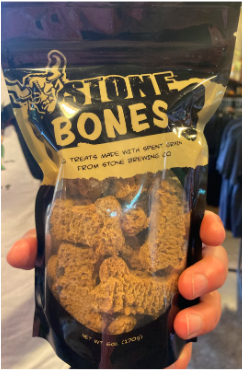 Meet Stone's Wastewater Department manager, Charlie Arnold (left photo). Can you believe Stone has its own water treatment facility? Stone has maximized water efficiency in their brewery by installing a "state-of-the-art water reclamation facility" on site. Charlie was kind enough to show me around the facility and allowed me to snap a few photos. Check out the brewing waste before and after treatment (right photo). According to Stone, " In 2020, we repurposed 17 million gallons of water, the equivalent of 500 homes' annual usage in our city."
After the water treatment process, the brewery byproduct is used for electricity generation at Escondido's Water Treatment Plant. On some days, 100% of the Water Treatment Plant's energy demands are met by Stone's brewing byproduct.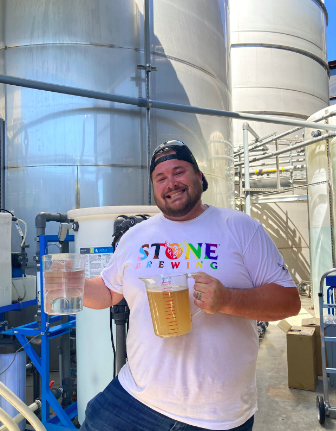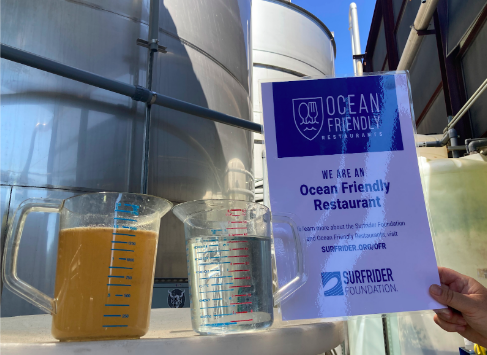 WAIT, THERE'S MORE! Stone has adopted a conservation landscaping policy that is low impact and focused on native habitat restoration. Stone Brewing World Bistro and Gardens- Escondido has earned a SITES certification for its innovative sustainable design. Runoff water is captured and flows to a pond (center photo), where plants and natural materials help to filter and clean the water before use in the gardens. They also use drought-tolerant landscaping, composting, and reuse salvaged construction materials.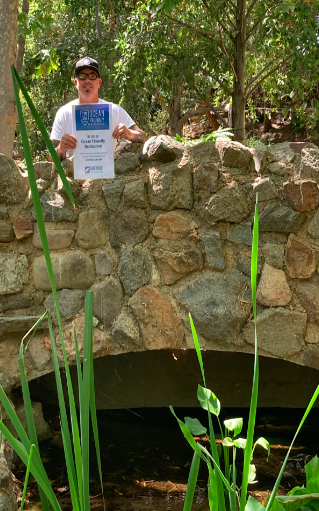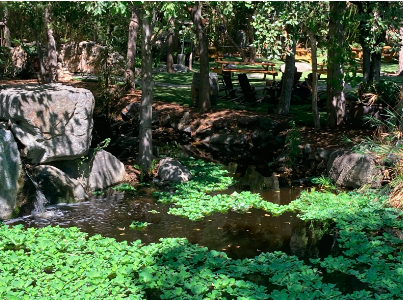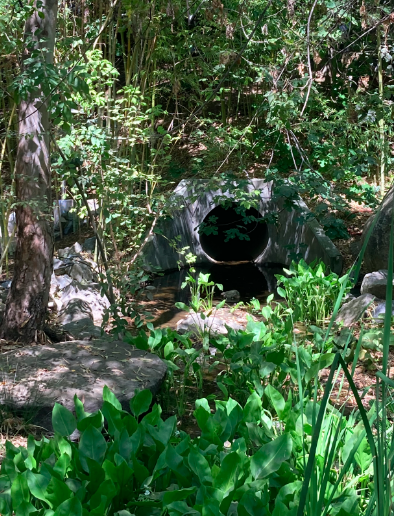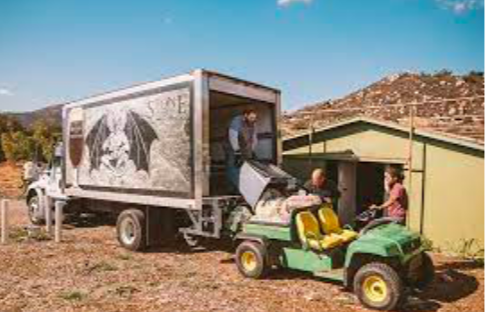 If you are looking for a restaurant that serves thoughtfully sourced meats, produce, and beer, then Stone's Liberty Station or Escondido locations are for you. "Stone relies on responsible partners like Belcampo, which compassionately and sustainably raises and processes the best organic, pastured meats from its Certified Humane farm." Stone also works with hop vendors who only use sustainable best practices.
Diners have so many choices when deciding where to eat out, so why not show Earth some love and dine at one of Stone Brewing's San Diego County locations? Enjoy delicious food and drinks made with quality local and organic ingredients while surrounded by natural beauty. Don't forget to tell Stone Brewing "Thank You" for their sustainability efforts and for being an Ocean Friendly Restaurant.
Written by
Vicki Conlon, Ocean Friendly Restaurant Lead, Surfrider Foundation,
M:858-761-6008
vicki@surfridersd.org