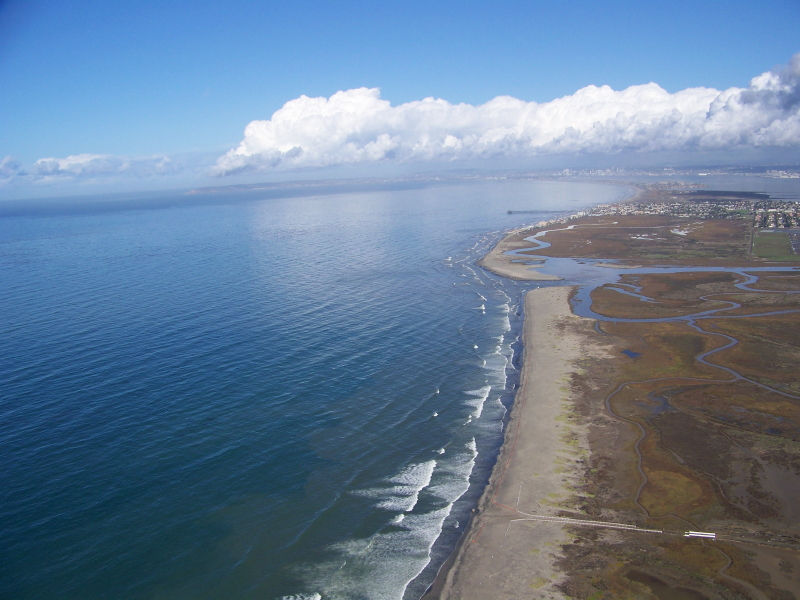 07.08.23
Recent Call for Federal Emergency Declaration at Our Border Makes its Way to Sacramento and DC
By Sarah Davidson
Momentum is building once again in the push to resolve the decades-old public health and environmental justice crisis at the San Diego/Tijuana border. Calls for a federal emergency declaration to address the toxic transboundary pollution have been heard at all levels of government, reverberating throughout California's southernmost county, and rippling across the country to our nation's capital.
A federal emergency declaration would be one of the most impactful steps to-date in the struggle for clean water in our border region. It could expedite access to federal resources for repairing, expanding, and building new infrastructure to significantly decrease the flow of toxic transboundary pollution, reducing the number of beach closures throughout South San Diego County each year and protecting the health of people and ecosystems.
Recent progress has led to a comprehensive suite of border infrastructure projects that could dramatically reduce the amount of pollution in the water. However, these projects are estimated to cost over $600 million, and thus far the federal government has allocated only half of that amount. Furthermore, recent revelations of the International Wastewater Treatment Plant's current state of disrepair have brought that total closer to $800 million. Significantly more funding and state and federal agency coordination is needed to cover the estimated construction cost and move these projects forward. A federal emergency declaration could get us closer to seeing these projects through.
With the recent flurry of activity and news stories on this call to action, it's hard to keep it all straight. Here's a breakdown of the actions taken and why they matter.
In late April, Imperial Beach Mayor Paloma Aguirre ignited this most recent push for action when she began advocating for a federal state of emergency declaration from the Biden/Harris administration. On June 6th, Mayor Aguirre sent a

letter

to the White House Council of Environmental Quality, laying out a strong case for the declaration and urging immediate action.
One week later, on June 13th, all remaining 17 mayors of San Diego county

signed on

to Mayor Aguirre's letter. The cities of Imperial Beach and San Diego have had ongoing municipal emergency declarations in place for the border pollution crisis for years, but it was significant to have every single mayor throughout the county recognize the impact of the crisis and join this effort as a unified front.
On June 27th, Chairwoman Vargas and Vice Chair Lawson-Remer, of the San Diego County Board of Supervisors, brought a motion before the Board to proclaim a

county-wide emergency and request a federal emergency declaration

to address the crisis. The motion passed unanimously. Surfrider wrote comments and testified on behalf of our nearly 4000 San Diego County members, alongside numerous other organizations and concerned residents, imploring our County to pass this motion. It was an important vote because it makes a stronger case to Governor Newsom and President Biden if the county stands behind the municipal requests.
Also on June 27th, Representatives Vargas, Jacobs, Peters, Levin, and Issa, of the San Diego congressional delegation, sent a

letter

to President Biden urging him to declare an emergency.
The next day, on June 28th, Assemblymember Alvarez, Senator Padilla, Senator Atkins, Assemblymember Ward, Senator Blakespear, and Assemblymember Boerner, representing the San Diego state delegation, sent a

letter

to Governor Newsom, calling for a California emergency declaration and urging the Governor to request a federal emergency from the President.
Also on June 28th, local nonprofit organizations came together for a roundtable discussion with community groups and agencies who have had children, youth, and community programs impacted by border pollution. Surfrider was honored to be a part of this discussion, hosted by YMCA Camp Surf and Outdoor Outreach, and ongoing coalition efforts. One key outcome of the round table was a nonprofit organizational sign-on letter to support the call for a state of emergency to Governor Newsom and President Biden.
Will the renewed urgency of these calls be heard in Sacramento and D.C.? As we now look to our state and federal leaders for next steps in declaring this a federal emergency, we are grateful for the strong leadership of our local governments and delegations that have set this call into motion and have kept the momentum going. In the meantime, we will do everything we can to make sure that our collective voices are heard!
New opportunities for concerned residents to chime in are being developed and we will share them soon. Until then, here's how you can stay in the know and get involved:
Sign up for our monthly newsletter and regular updates

here

Come to our recurring Clean Border Water Now (CBWN) meetings on the second Monday of every month (learn more and sign up

here

)
Follow us on Instagram and Facebook for the latest updates and opportunities