The King Tides are the highest tides of the year, offering a glimpse of our future coastline given sea level rise.
Each year, our Beach Preservation Committee documents the phenomenon at various San Diego County beaches in order to create a visual aid for coastal policymakers and the general public. We achieve this by enlisting willing volunteers to help us document both the high and low tides.
The annual King Tides produce not only the highest tides of the year; they also produce the lowest. Beginning with a 7+ ft. high tide that completely swallows many of San Diego's narrower beaches, the tide then recedes to a negative afternoon low that reveals the widest, most walkable beaches of the year. If you love tidepooling or want to try it, then you won't want to miss this opportunity (more on that HERE).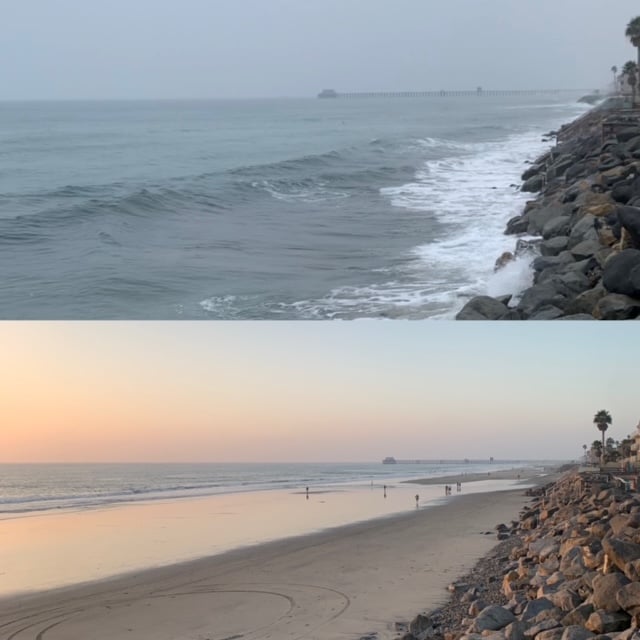 The South Oceanside shoreline at high & low during the 2021 King Tide event (photos: Halei Young)
This year's King Tides fall on December 23-24, and again on January 21-22, 2023.
For the upcoming December dates, we would like to crowdsource both high and low tide video and photos of as many San Diego County beaches as possible. While GoPro time lapses and drone videos are welcome, most of us rely on our smartphones to capture footage of the high tide, the low tide, or both.

Look forward to some in-person group viewing opportunities during the January King Tides, but for now, we hope you can visit the coast to witness this annual cosmic event. Please read on if you'd like to capture footage for us, and check out our 2021 King Tide compilation to get an idea of what we're looking for.
When to go
Below are NOAA's predicted high and low tides for December 23-24 and January 21-22. Please note these predictions are for La Jolla, and that the exact timing and height of the highs and lows will differ slightly as you move up and down the coast. For more accurate predictions, we suggest the NOAA site, Surfline, or any number of free tide sites.
DECEMBER 2022
Friday, 12/23: high tide 8:08 AM, low tide 3:33 PM
Saturday, 12/24: high tide 8:54 AM, low tide 4:20 PM
JANUARY 2023
Saturday, 1/21: high tide 8:03 AM, low tide 3:21 PM
Sunday, 1/22: high tide 8:50 AM, low tide 4:02 PM
Tide swings are gradual. If you're unable to observe and/or capture footage at the exact high or low tide time, that's OK. We suggest arrival within 30 min- 1 hour of the stated high and low tide times at the beach site you choose to visit.
How to Document the King Tides
Video footage is what we prefer - it's more impactful than photos (although a few photos helps too!). Fortunately, almost anyone with a smartphone can capture quality video footage. If you're using a phone, please hold your screen in the horizontal/sideways position to optimize a wide angle that is better for Youtube-style videos.

As evidenced in the 2021 video above, we typically use snippets between 3-15 seconds long.
For the king high, we're looking for:

beach loss in areas where beaches usually exist in normal tide conditions

flooding of coastal infrastructure, i.e. the ocean breaching onto roads, walking paths, parking lots, lifeguard towers under water, etc.

waves overtopping any infrastructure (private property, roads, access paths, etc.) is always compelling.
footage needs some land-based reference to be compelling - parking lot, riprap revetment or seawall, lifeguard tower, etc. If it's just waves washing ashore on a sandy beach without references, it's hard to gauge the king tide effect.
Please be mindful of your safety and keep a safe distance from the observed high tide line (especially if there is a good swell that day). Safety first!

If you're able to capture both high and low tide footage, please return to your same spot in the afternoon to capture low tide images. It will be worth it as you'll be able to stay for sunset!
If you operate a drone or have high quality videography equipment and would like to contribute at a priority beach site, please email mitch@surfridersd.org to coordinate.
Volunteers are welcome to document at the beach of their choice. However in hopes of compiling footage that is both compelling and useful for our beach preservation efforts, we've created a public Google Sheet with some

suggested beaches to document

. Please sign up to any location that you'd like to observe and document. For any questions, please email beachpres@surfridersd.org + mitch@surfridersd.org.

Beaches aren't the only thing worth observing and documenting - any body of water affected by tidal swings can be compelling. Examples include Mission Bay, San Diego Bay, and coastal wetlands (the Bayshore Bikeway in Imperial Beach, for example, often floods during the king high tides).