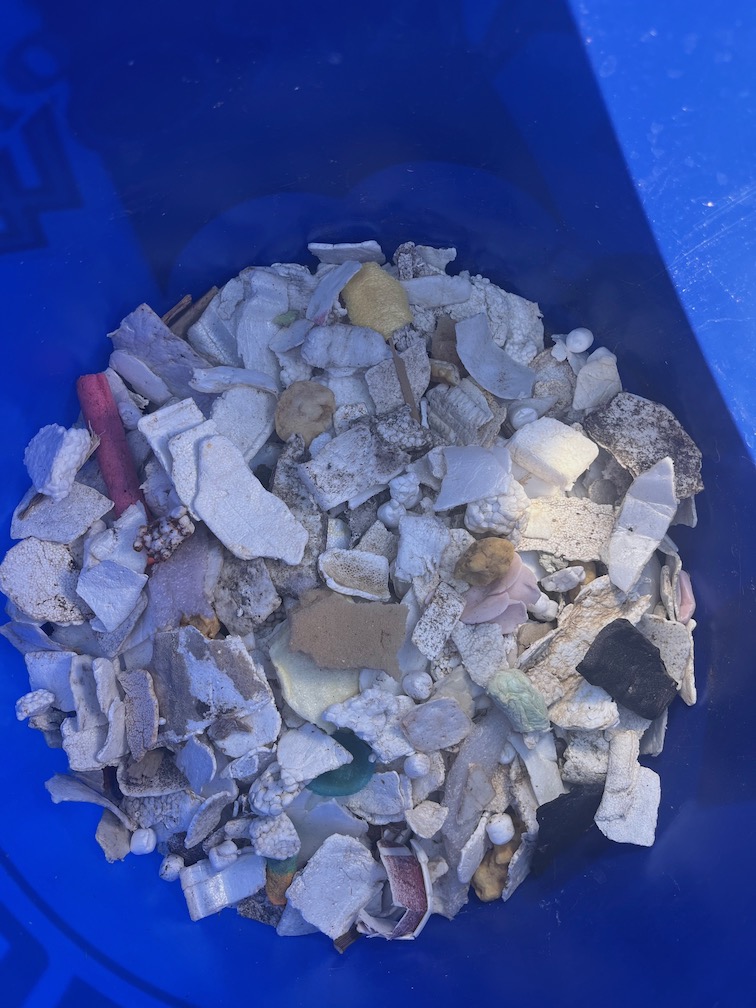 04.28.23
Oceanside Will Consider a Plastics Ordinance on May 3 - Your Voice Matters
By Mitch Silverstein
It's official. The Oceanside City Council will decide whether to direct staff to draft a polystyrene foam ban on Wednesday, May 3. We need your support in order to ensure the item moves forward.
Much has happened since March 2021, the last time we tried (unsuccessfully) to phase out polystyrene foam in Oceanside. Surfrider activists, along with strong community coalitions, worked with the neighboring cities of Vista, San Marcos, and Carlsbad to successfully pass plastic ordinances - all of which address foam. Vista and Carlsbad's foam ban takes effect July 1, San Marcos in January 2024.
More recently, the City of San Diego became the second largest city in California to pass a foam ban. Their ordinance, which serves as the template for what we hope to achieve in Oceanside, took effect on April 1.
All of these victories bode well for our chances of success in Oceanside. If Vista, San Marcos, Carlsbad, and San Diego can phase out foam - not to mention Encinitas, Del Mar, Imperial Beach, and over 130 other cities in California - then Oceanside can do it too!
And not a moment too soon, as these recent photos from Oceanside clearly detail the need for action:
But victory is never guaranteed, and Oceanside has thus far declined to address plastic pollution via an ordinance. Like many cities, environmental dept. staff resources are limited due to the monumental task of implementing statewide organic composting requirements. And in 2021, several councilmembers objected to an ordinance targeting restaurants but not other business types, especially at a time when the industry was hurting from pandemic restrictions.
Never one to back down from a challenge - especially when it comes to keeping plastic off our beaches and out of our ocean - we've drafted an ordinance that phases out polystyrene equitably across all businesses, granting extra time to comply for small businesses and for those facing financial or feasibility-based hardship.
In the spirit of creating a level playing field for all businesses, we are also recommending an expansion of the statewide bag ban to cover retail and restaurants. As it stands, the state bag law applies mainly to grocery and liquor stores. This is why if you forget to bring your own, you pay $.10 for a reusable or recyclable paper bag at the supermarket, but not at stores like Home Depot or your local takeout spot. Statewide, over 80 cities have passed local laws to ensure that the state bag law applies to retail and restaurants as well (including Carlsbad, Encinitas, and Del Mar locally).
The state bag ban has been in effect since November 2016, and Californians everywhere are used to bringing their own bags to the market. The idea here is to incentivize customers to bring their own bags to every store, especially restaurants where reusables are rare and those flimsy single-use plastic bags still run rampant.
We'll post a more structured call-to-action by Monday, May 1, but please don't let that prevent you from letting the City Council know you support action against harmful single-use plastics!
Here is a LINK to the item language (thank you Councilmember Joyce and Mayor Sanchez for bringing this forward). Click the button below to be directed to Oceanside's public comment webform.
Meeting Date: 5/3/23
Agenda #25
Subject: In support of plastics ordinance (or something similar)
Position: In Favor
Comments: you can be as brief or as detailed as you want, just make sure you ask that they approve this item and direct staff to draft an ordinance with as quick a turnaround as possible!